I've got final edits for the novel to go through this weekend which means I'm going to be pretty much occupied on bookish things.

And then there's the plants. The endless parade of plants...

I'm really going to have to take some photos before the petunias go outside and get slugged because in many respects, I've got some of the nicest petunias I've ever seen in my life. Thomson and Morgan's 'Crazytunia' collections are just plain gorgeous, and there's another wonderful selection called 'Lake Garda' from Gardening Direct, too. Not to mention a couple of petunia selections from J Parker which are equally striking.

So yeah, there will be photos taken, very soon. The sun has at last come out here, and nature has gone into overdrive. But I'll try and stay in touch - I promise!!
I'm sorry, I'm neglecting y'all I know.
Looking back down the slope from The Needle, we can see The Prison, which suddenly seems rather inconsequential:-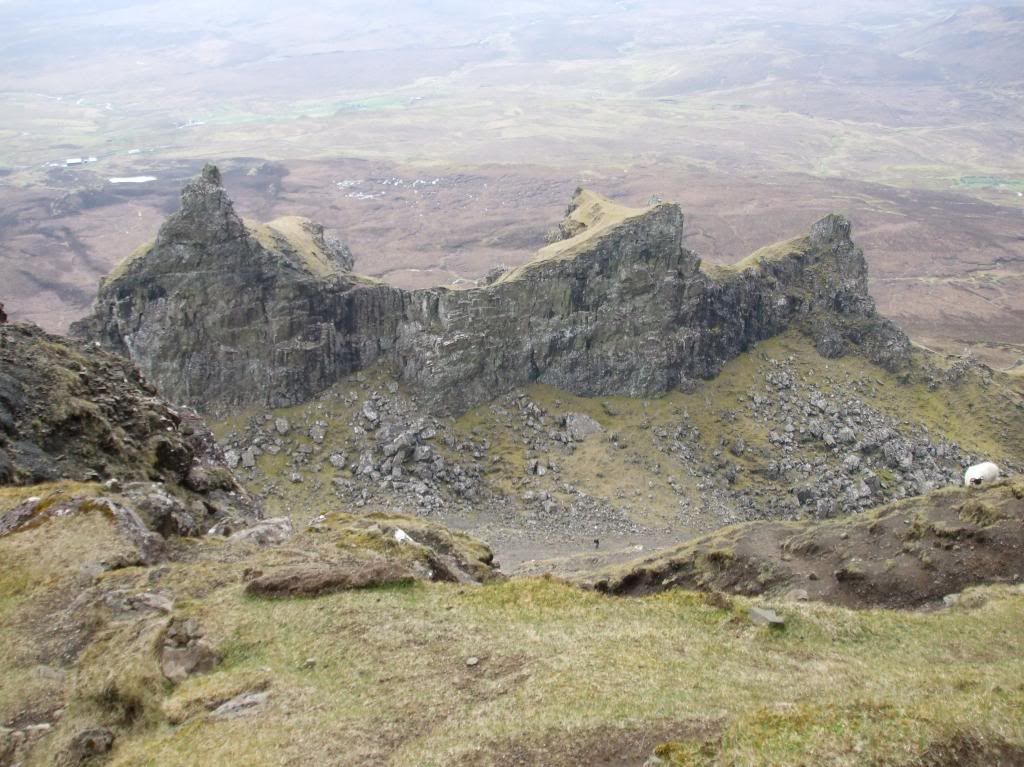 The sheep, I hasten to add, are more intrepid than me - I found it all a wee bit nerve-wracking, I must admit...
Stepping behind The Needle is like venturing into a different world, full of pinnacles and grim sheer rock faces:-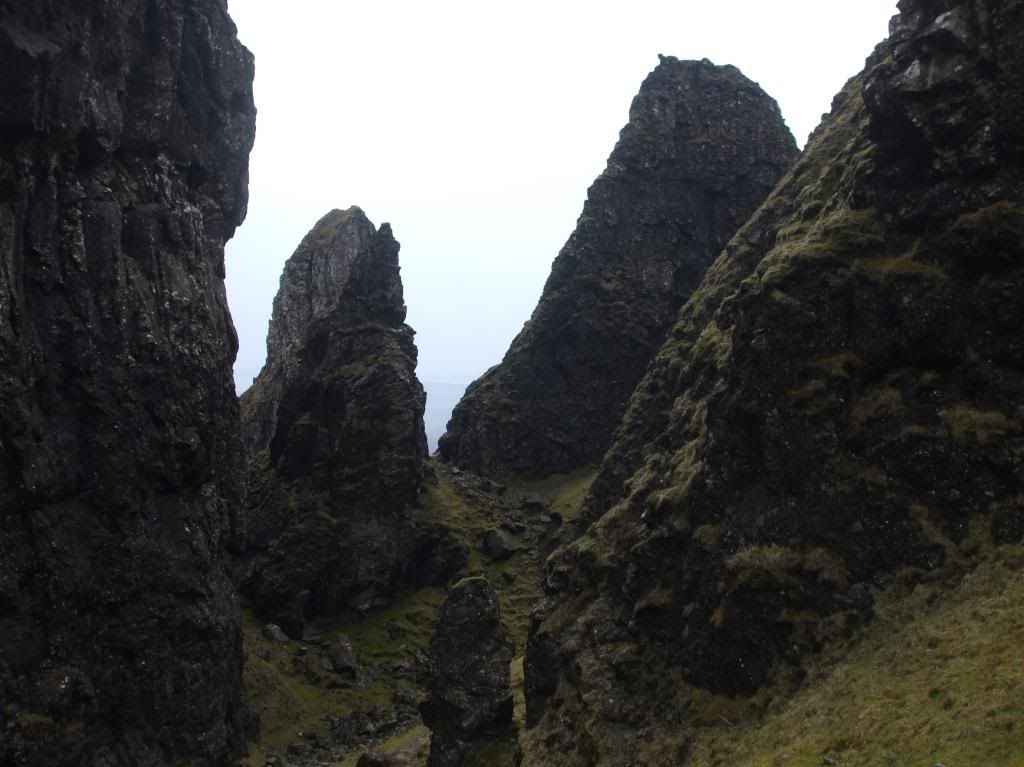 Beyond, we can still snatch glimpses of the cliffs and escarpments:-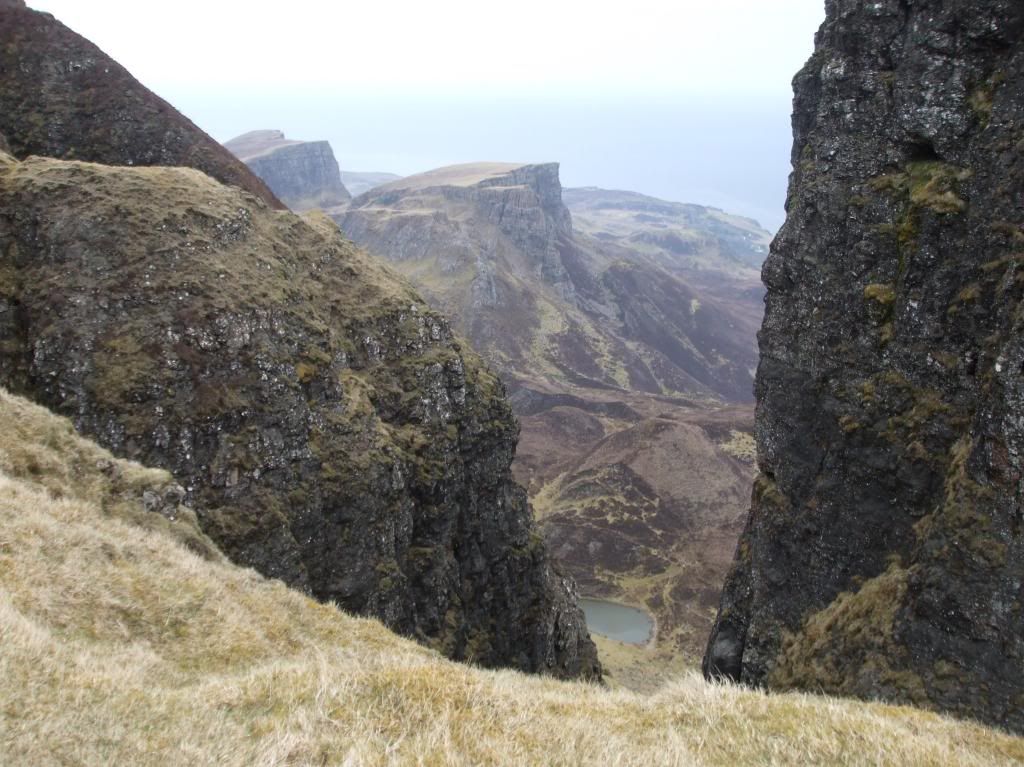 And deep within the depths of the Quairang, we find The Table. It looks just like a big block of rock from below, but with just a short and fairly straightforward ascent, you find yourself on a vast, flat expanse of grass:-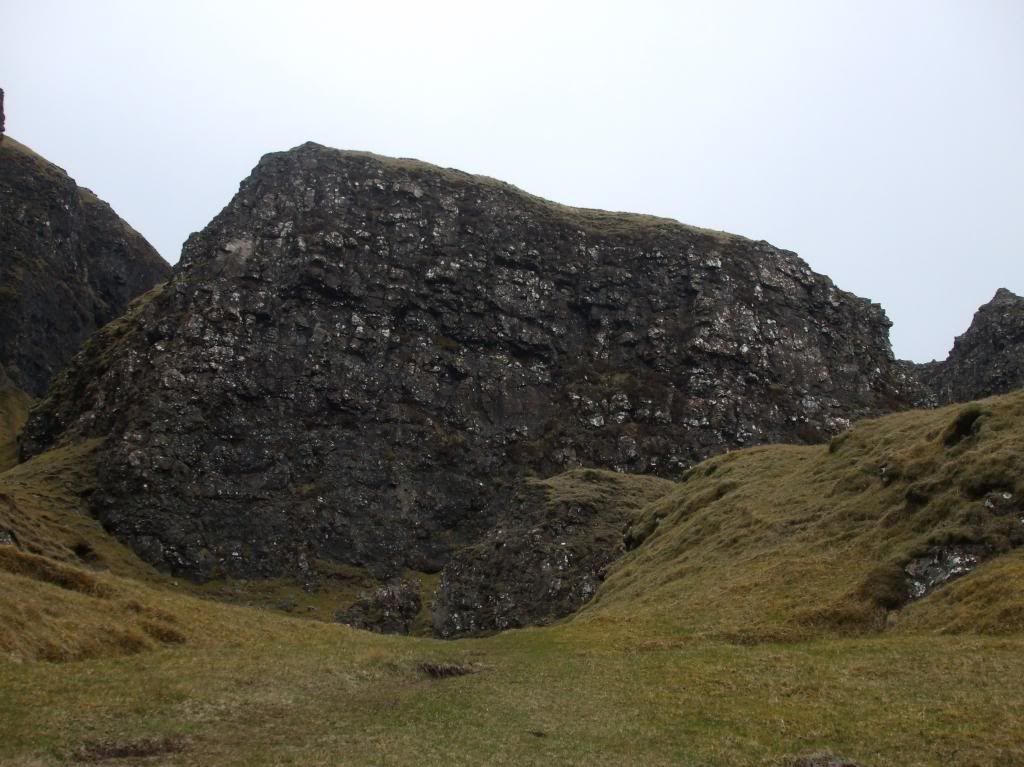 Unfortunately, flat grassy expanses are not very photogenic, but here's a view from the top:-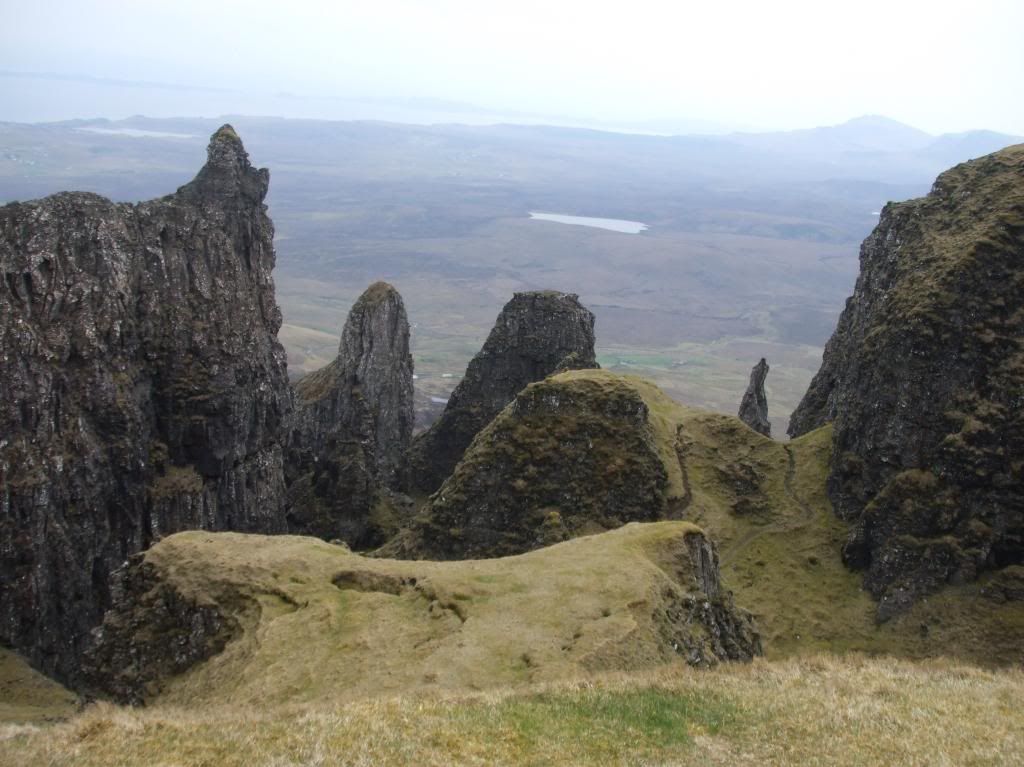 Back to the Quairang now, and a trip beyond the Needle, which is shown at its best in the photograph below:-
Current Mood:

chipper
There's two classic walks in Skye that are classed as 'Must Do' on the active holidaymaker's bucket list. The first is to the Old Man of Stor, and the second is to the Quairang ('circular fold' in Norse).
We did the Old Man of Stor on our debut trip to Skye in 2009. And very satisfying and enjoyable it was, too!
On that same holiday, we also did a short version of the Quairang, a sort of 'Quairang Lite', because while the weather was quite pleasant that day, the wind on the tops was so strong that we felt it was a bit dangerous to do the whole thing. So it was our aim on this trip to do the 'Full Quairang', so to speak....
The scenery in this part of Skye - on the north-west portion of the island - is just glorious. The Black Cuillins were originally a massive volcano, so there are volcanic features a plenty on the island, including great big lava flows which have been eroded down, twisted around, and transformed into the most dramatic scenery you could ever hope to find. The view above, taken from the walk to the Quairang, shows one particularly dramatic stretch of escarpment. This probably demonstrates why Skye was recently '4th Best Island In The World' by National Geographic, I think it was (I know, never trust the hype you read outside cafes in Portree....)
To the Quairang itself now...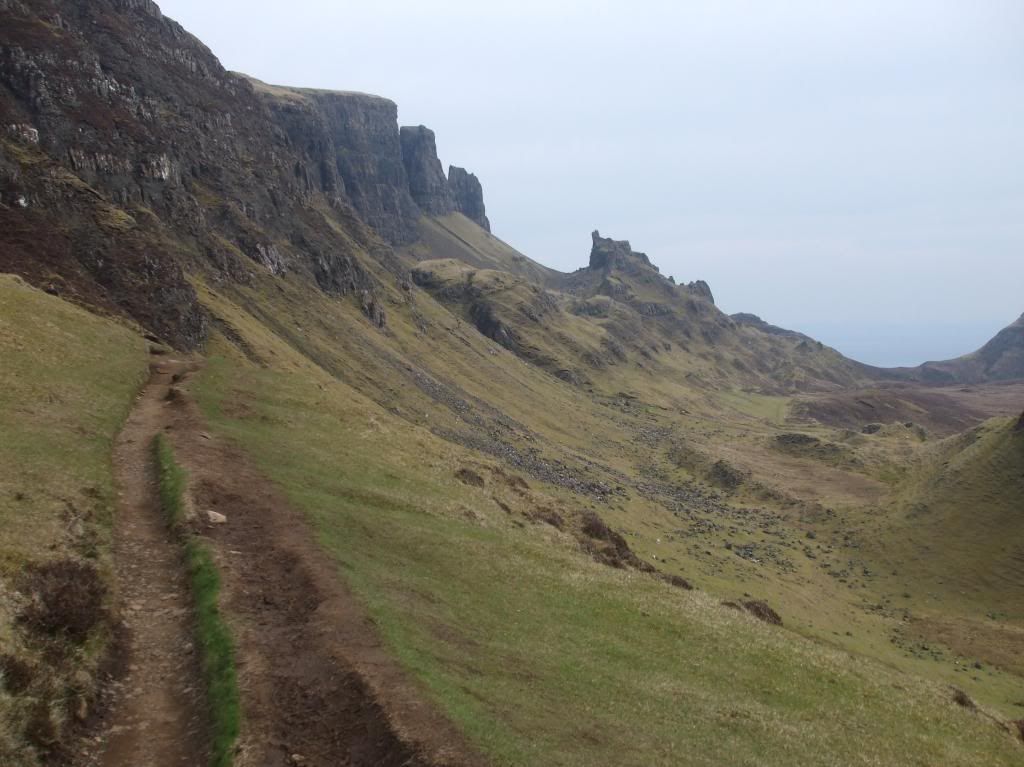 The Quairang is composed of a strange collection of massively eroded volcanic features called variously 'The Prison', 'The Needle', and 'The Table'.
Quairang Lite takes you to The Prison, a great block of volcanic rock which gives the impression of a vast, impenetrable fortress:-
But the Classic Quairang walk takes you further still, up through a gap in the neighbouring escarpment via a steep little climb to the left of The Needle, the rocky pinnacle in the centre of the picture:-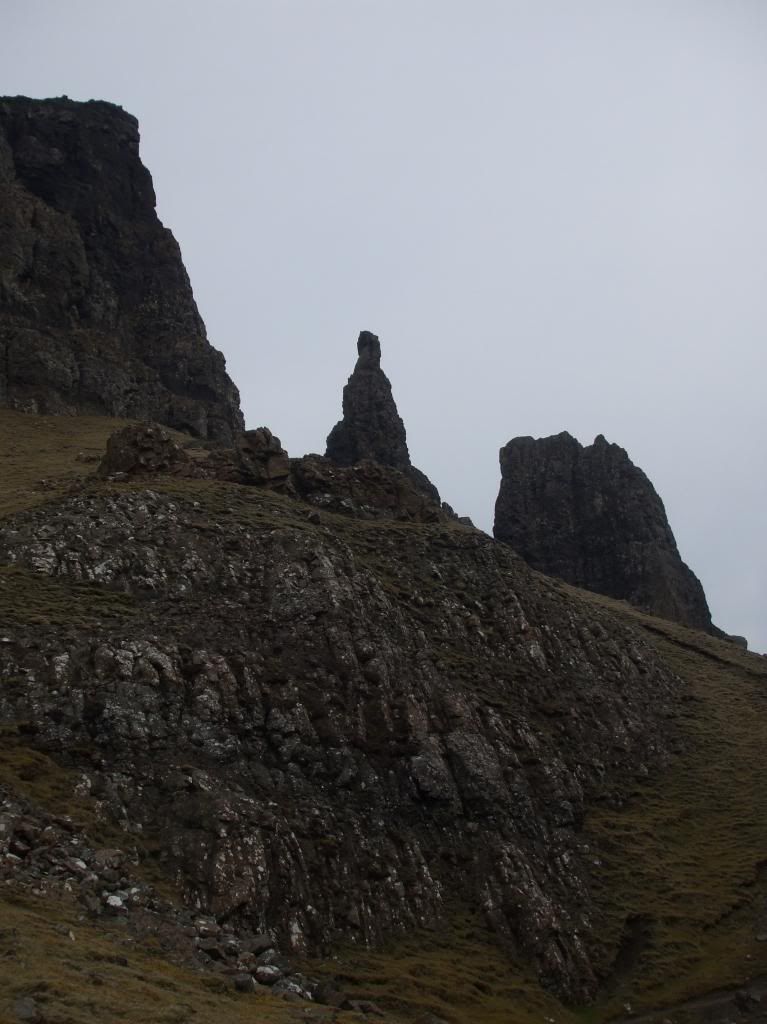 And in my next post, I'll take you behind The Needle, to the strange world beyond and to the furthest point on the walk, The Table....
To our walk in Skye now.
Current Mood:

accomplished
This was the view from our B & B in Portree. For those of you are interested in learning a bit more about Skye's geography, there are two mountain ranges, the Red Cuillins (on the left) and the Black Cuillins (on the right).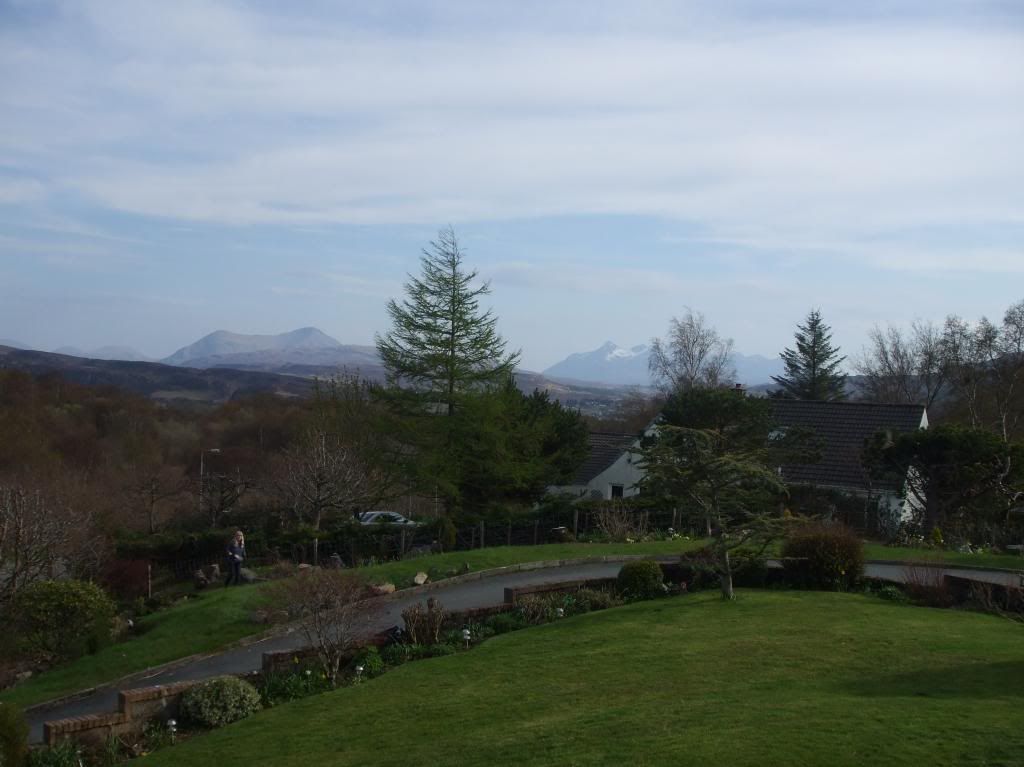 As for Portree itself, it's extremely picturesque. Especially when the sun comes out, and it's not raining:-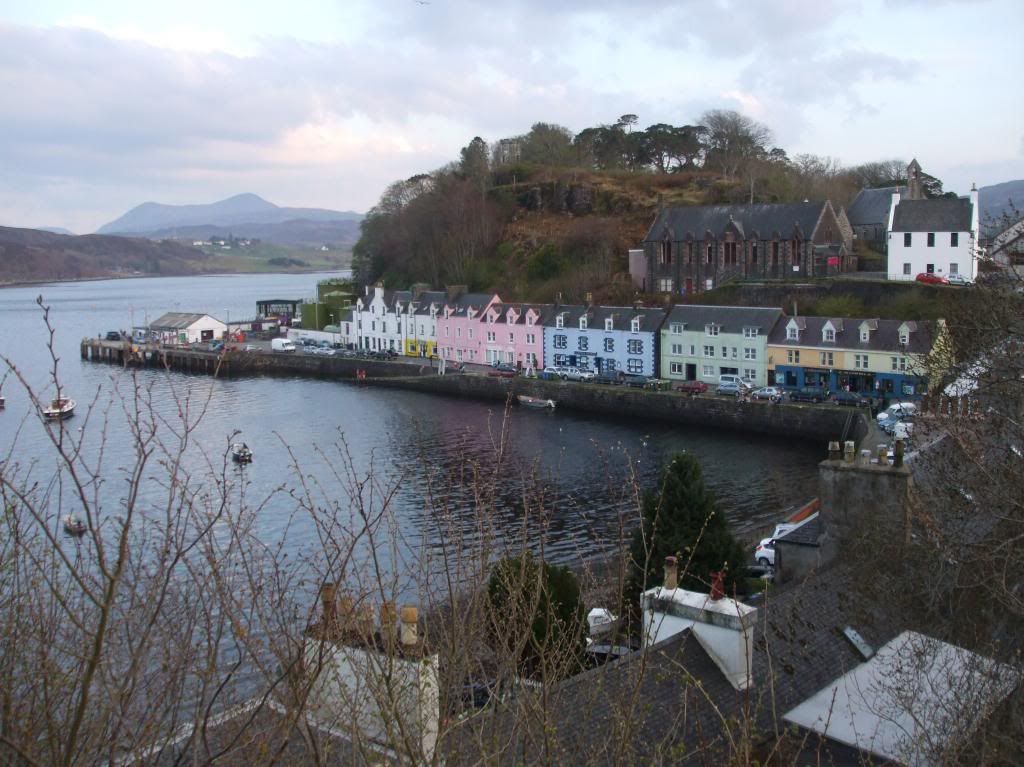 And the rest of the island? Cuillins aside, it's beautiful. Especially when the sun comes out, and it's not raining:-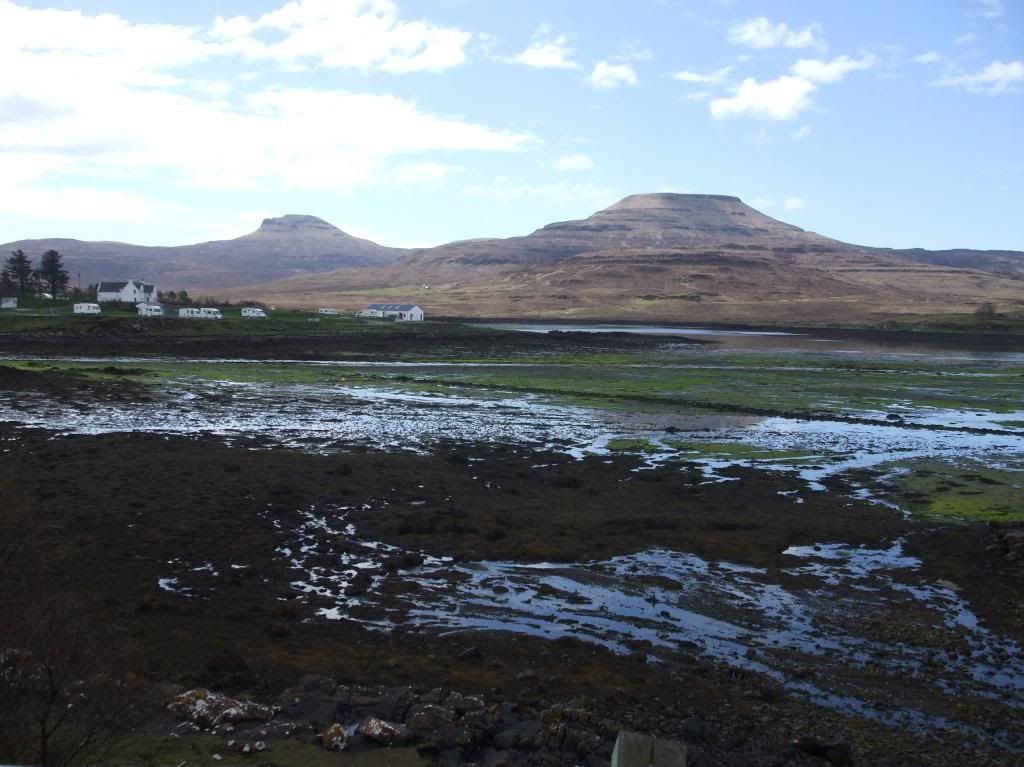 We explored the Quirang and we also saw a number of ancient monuments (not including the fish trap which can be seen in the photo above). You'll be delighted to hear, I'm sure, that I'll be introducing you to some of these monuments in due course.
we also had a close encounter with a white-tailed sea eagle (
iolair
in
gaelic
...). We glimpsed sea eagles on Mull a few years back, and oh boy, these things are impressive. Sort of like flying barn doors with beaks and claws.
But on Skye they do boat trips which actually go out to sea and feed the things. There's no guarantee that they'll actually appear (never work with children and animals, and all that), but we thought we'd give it a go, just in case.
And so on Friday morning we chugged out of Portree harbour on the MV Stardust, and everyone got really excited when they saw the white-tailed sea eagle. So, here's my attempt at rivalling Gordon Buchanan and Simon King:
Yes, there is actually a sea eagle in the photo. It's the pale blob standing on the rock in the centre of the picture between the two huge lumps of outcrop.
I thought this would be the highlight of the day, but I was wrong!
With the male sea eagle loitering on a branch, totally disinterested in everything around it, our skipper chucked out a hefty fish into the water nearby. The result was predictible enough. A passing great black-backed gull came down thinking "Woo-hoo! This is my lucky day!! This fish is bigger than ME!!!!" Sea-eagle, meanwhile, was clearly thinking, "Hello, that damned gull has got something tasty. I'm not going to stand for that. I'm not going to stand for that at all..."
And so the sea eagle came spiralling down, swooped right past our ears, and grabbed the fish right from under our noses.
I had a choice. I could stand there with a camera and take some really crappy pictures. Or I could just stand back and savour the moment. So I'm afraid I opted for the latter.
This is what we saw:-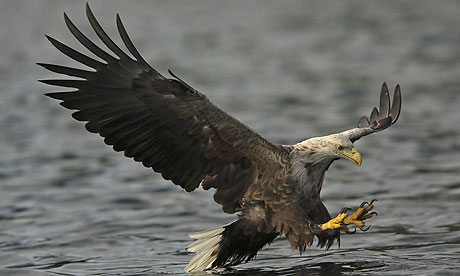 This picture isn't my work, of course. But what the photographer has captured is so damned close to the real thing that I couldn't wish for better. It was awesome, it was wonderful, it was breath-taking, and a million other superlatives that I can't possibly think of at short notice.

The only drawback was the pain-in-the-neck muppets at the back of the boat who kept standing up and spoiling everybody else's view. But since the eagle swooped down right past my nose, just a couple of metres away and so close you could almost feel the downdraft off the wings, who's complaining?

Yeah, one of those once-in-a-lifetime memories that you treasure for all time...

I'm back, after a brilliant couple of days in the Isle of Skye. We thought the weather would be diabolical, with endless rain, but the climate in the Isle of Skye can be a little strange, and in reality we were extremely lucky, with just one horrible afternoon followed by an equally horrible evening on our last day.
Current Mood:

ecstatic


I was away in Edinburgh over the weekend, attending the Rhind Lectures. These are run on an annual basis by the Society of Antiquaries of Scotland - it's like the Tour de France or the Giro d'Italia for senior academics. There are 6 hour-long lectures in total - 1 takes place on Friday evening (with wine reception following), there are 3 on the Saturday, and 2 on the Sunday, with a question and answer session to wind things up. And it's free and open to all!!!

The subject this year was the Late Medieval Church Architecture of Scotland, and the speaker was the inimitable Richard Fawcett, Professor of Art History at the University of Saint Andrews. I attend Prof. Fawcett's lectures on a frequent basis, because they're just so damned good. He delivers his subject in impressive detail, and yet he manages to make it interesting, and humorous, and exciting.

I missed Friday's lecture because I couldn't get away from work in time. It was a summary of what had gone before, basically giving us a potted version of church architecture in the high medieval period. And then the following lectures discussed the way in which church architecture was influence during the late medieval period by developments in England, earlier Scottish church architecture, contemporary Scottish secular architectures, as well as church architecture in France and the Low Countries. From cathedrals to rural collegiate churches, Prof. Fawcett discussed them all, in a whistlestop tour that was breathtaking in its complexity. The conclusion? Scotland by this time was home to a diverse range of architectural styles derived from a variety of sources, ranging from Scotland's medieval past, to contemporary structures in the Low Countries.

It was great. And thankfully, there's a book. The Society of Antiquaries have just released a monograph by Prof. Fawcett entitled 'Medieval Church Architecture in Scotland' (I think that's the title), so I guess I'm going to be saving up my pennies for that one in the near future.

Hope you're all doing okay - I'm still not managing to catch up with you all. Things are amoving on the book front, and I've virtually got my launch day set in stone. Watch this space!!!
My apologies, everyone. I've been kind of distracted...
Lying between Nether Largie South and the outlying Bronze Age cairn are a group of standing stones known as the Nether Largie Standing Stones (or the Lady Glassery Standing Stones). They comprise four groups of standing stones, pictured below:-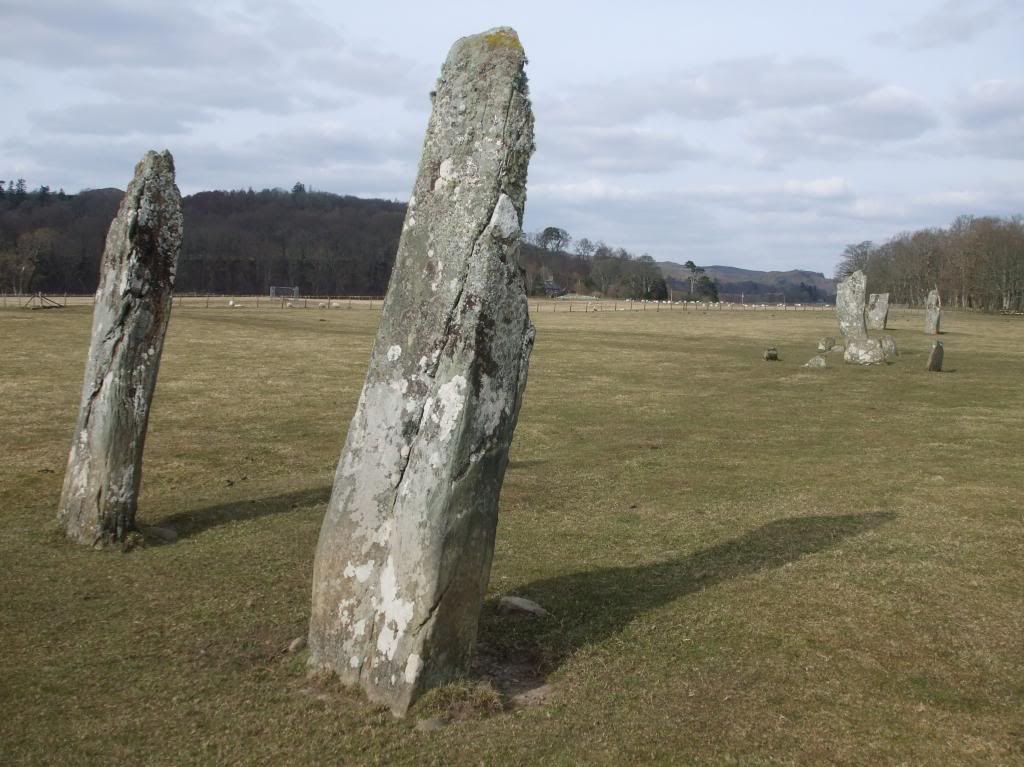 These stones are just a surviving remnant of a landscape which was heavily utilised in the Bronze Age. Geophysical survey carried out in recent years has revealed a number of further sites, including yet another cist, which indicates that these monuments also played a role in commemorating the dead.
Another interesting thing about the Nether Largie Standing Stones is the amount of rock art present. A number of the stones have cupmarks upon them, and one, shown here, is particularly heavily marked with both cupmarks, and cup-and-ringmarks. Standing at over 3m in height, it's a particularly impressive example of a standing stone:-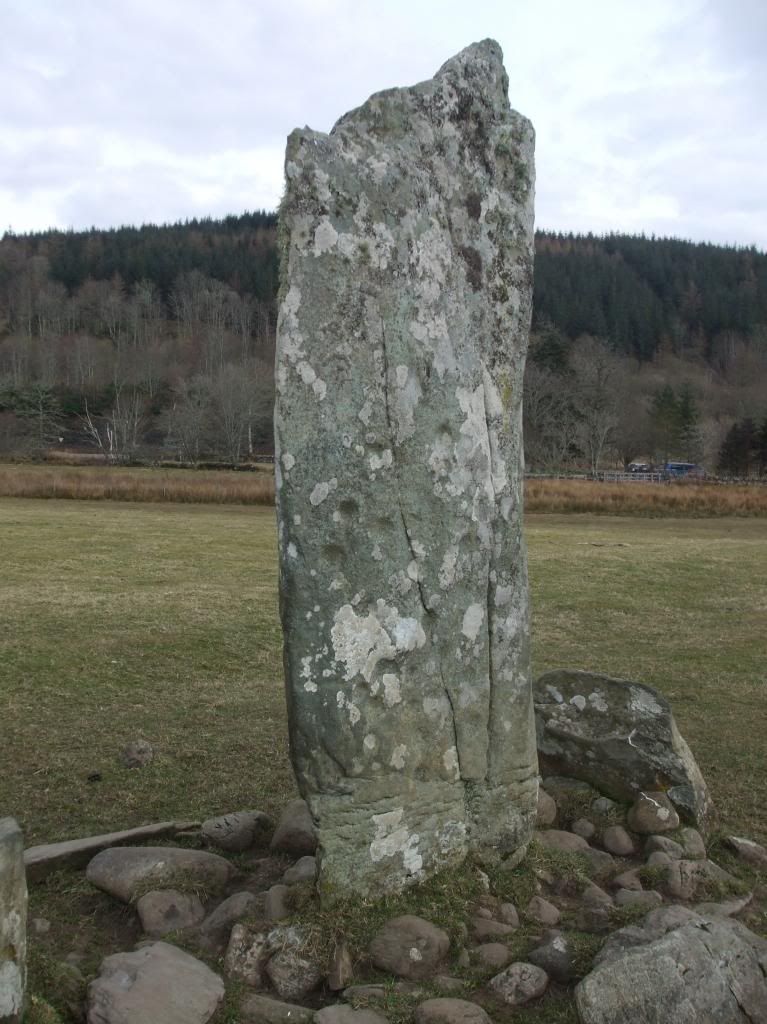 Once again, the question presents itself. Did the rock art predate the standing stone, or was the addition of the rock art part of the transformation of the stone from natural raw material to finished monument? It's still a hot topic for debate, though I'd be inclined to opt for a later date, at least until someone shows me a framentary cupmark which has been broken during the quarrying process...
In fairly close proximity to the Nether Largie Standing Stones is the Temple Wood Stone Circle, a set of funerary monuments which were proven, by excavation, to have an extremely complicated history which involved much change and re-use.
The first phase involved the construction of a timber circle during the late Neolithic. This was later replaced by a stone circle. Smaller satellite cairns were built nearby, one of which produced a Beaker and three barbed-and-tanged arrowheads, indicating a date towards the close of the Neolithic and into the Early Bronze Age. Later on in the Bronze Age, the gaps between the standing stones were infilled and the entire monument buried beneath a large ring cairn, within which was inserted a single cist, which can be seen in the centre of the picture:-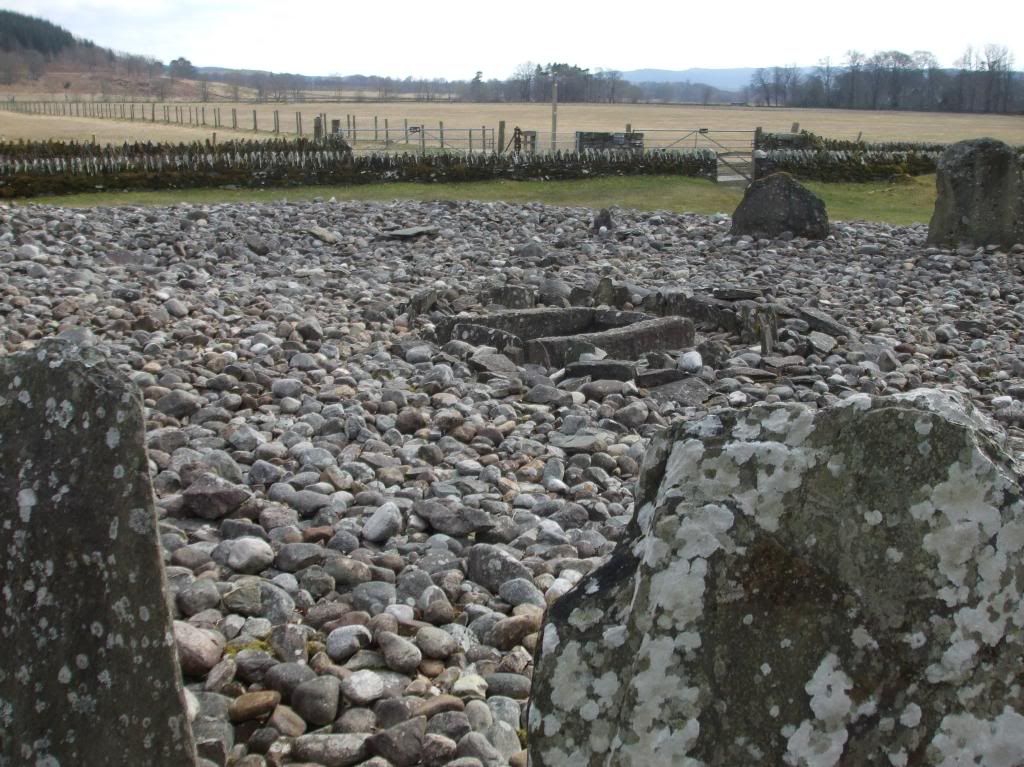 Once again, rock art is evident here. But this is rock art with a difference. Instead of the standard cupmarks, Temple Wood has revealed a carved spiral on one of the upright stones:-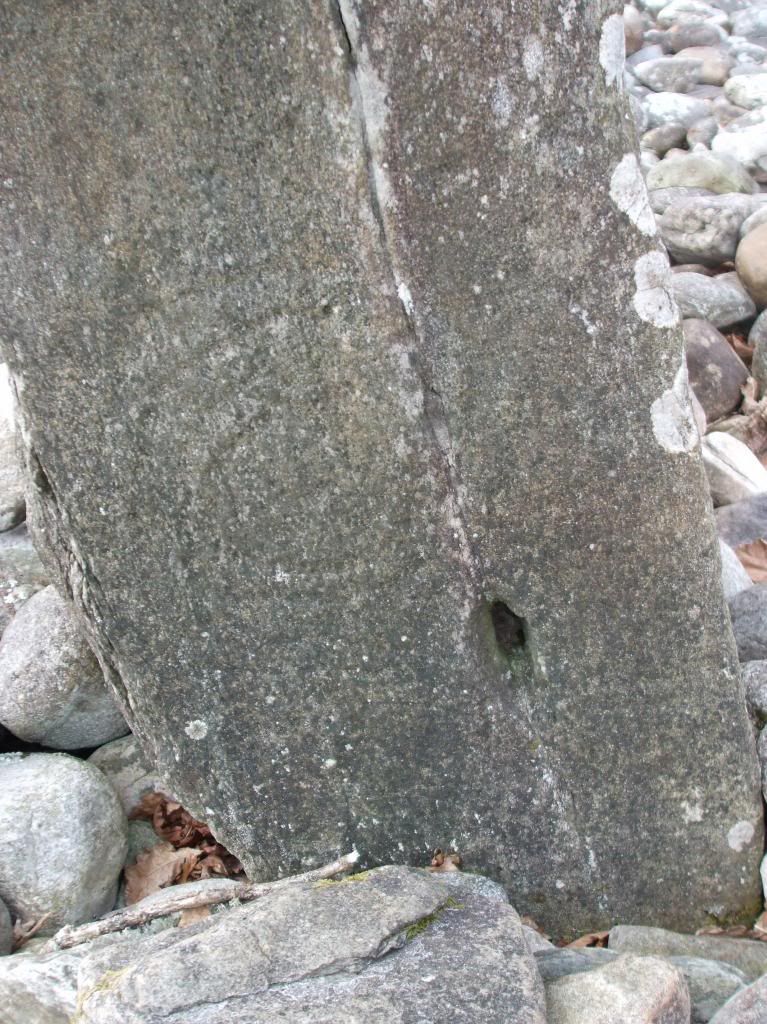 It's not very easy to spot, but it is just visible!

This particular motif tends to get prehistorians very excited, because it's similar to the kind of patterns more often seen on Grooved Ware pottery or on early passage grave tombs like Newgrange, its presence here suggesting, perhaps, that the stone circle at Temple Wood may be extremely early in date....
At long last I've found the time (in between potting on!) to post another entry about the prehistoric archaeology of the Kilmartin Glen. It's my last post dedicated to the prehistoric ritual landscape in the glen itself - we've already looked at a variety of funerary monuments originating mainly in the Bronze Age, but dating back as far as the Neolithic in one instance.
Current Mood:

busy

Current Music:

Pink Floyd - A Momentary Lapse of Reason


They've kind of taken over at the moment. I have more petunias than I can shake a stick at - the slugs are queuing up outside, licking their metaphorical lips, and thankfully the threatened frosts don't seem to have manifested themselves, which means that bigger tuberous begonias and the mature pelargoniums have all been hardened off and are now billeted outside, and the sweet peas and the senetti will be joining them very soon...

I now need to buy some more compost...

I should really do an on-line plant quality assessment at some point. This year, I've ordered plants from J Parker, Verenon Geraniums, Hayloft Plants, Gardening Direct, Thomson & Morgan, and Suttons, and they've varied in their quality and vitality. The biggest disappointment has been a consignment of Osteospermum from J Parker - they were in a real mess when I got them, and I've lost about half through damping off. However, I'm not inclined to blame the suppliers. Almost inevitably, the Royal Mail didn't read my note on the door and waltzed off back to the sorting office with the damned things, and an extra couple of days in the box seems to have been enough to finish them.

Sigh...

At least today's postie did a better job, leaving me a consignment of herbs and yet more petunias (!) and a second set of lathyrus seedlings which I really don't remember buying, but which I must have done, I suppose. Not that I'm going to turn my nose up at some extra lathyrus - I'm hoping that somewhere in there I'll get a sky blue one...

If the sun was still shining, I'd take a picture. Tell you what - if it comes out again, I will! I've finished weeding three of the front flower beds, the daffies are out, and the garden has now become a great place to stroll through. The brunnera in particular look stunning - they've made it through the winter without being slugged/snailed into oblivion, thanks, I think, to a particularly diligent thrush who now hangs out in the garden, and so there's now a large stretch of bed which looks really vibrant. I do love brunnera, I must admit...

And now, it's back to the plants. They need me...
I'm currently drowning in small plants. Hence the silence....


I am also now slap bang in the middle of the annual baby plant fest. The house is filled with plants. Some of the pelargoniums and begonias are now living out because I just don't have any space to put them indoors, which means that they'll have to be fleeced up this coming weekend, because we'll be getting frosts...

And now to the main subject of this post: Diva. The horse-savvy amongst you may remember me complaining because I'd been taken off Diva for several months and put on Molly instead, and when I returned to riding Diva, it felt like all my hard work had come to nowt.

The real story came out yesterday. She was off work with lameness. She got through it once again, but is now in semi-retirement. The owner of yard is determined not to let her rot in field as long as she's still enjoying her work, but she's only ridden for a few hours a week and the only time she gets a proper workout is when she gets partnered with me.

Anyway, I was told that the vet had reckoned her inability to strike off with the correct canter leg on the left rein was symptomatic of arthritic changes and that she shouldn't be expected to perform the exercise with the correct lead in future. They'd tried to get her to do things properly on several occasions during the last couple of weeks, without any luck whatsoever, so they were inclined to give up.

My response was to shrug and say 'whatever', while secretly thinking that with sufficient work on her balance and flexibility, there was no reason why Diva shouldn't do things properly, and that hopefully, in a month or two, we might be capable of achieving this goal.

And then Diva surprised everyone. We were working outdoors, where she's much less stressed and much more energetic, and on our first canter on the left rein, she struck off on the correct leg. If that wasn't enough, she succeeded to do this again not once, but twice!!

So don't write her off just yet! And yeah, I must admit, I'm quite proud of her for succeeding and showing everyone that she wasn't over the hill and beyond all hope of recovery!!!
My apologies for the long absence, everyone. I was at a wedding last weekend, and things have been kicking off on the book front (talking cover art with artists and editors is FUN!!! And when a .jpg of a beautiful recreated medieval village drops into your in-box, well! What's not to love!!! AND I got myself an author photo which I actually like.
Current Mood:

accomplished
To Kilmartin, now.
I'm devoting tonight's post to some more of the Bronze Age burial monuments in the Kilmartin Glen. The first of these is part of the linear cemetery I've illustrated previously: Nether Largie Mid Cairn.
It's the least impressive of the four cairns in the linear cemetery, though early accounts suggest that it originally stood 3m high, and that most of its cairn material was removed to provide road metalling in the 19th century. The cairn was originally a kerb cairn, with its edge defined by a kerb of larger stones around the circumference.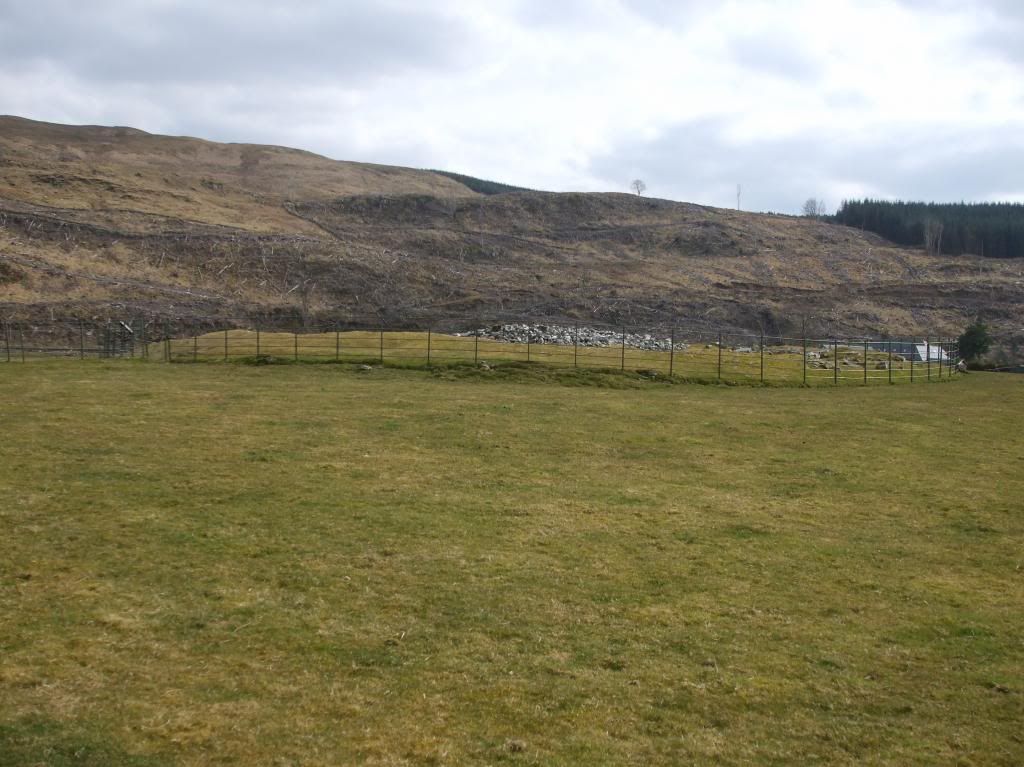 One cist was excavated by Craw, who found nothing inside, but noted the presence of a cupmark and a carving of a bronze axehead on one of the end slabs:-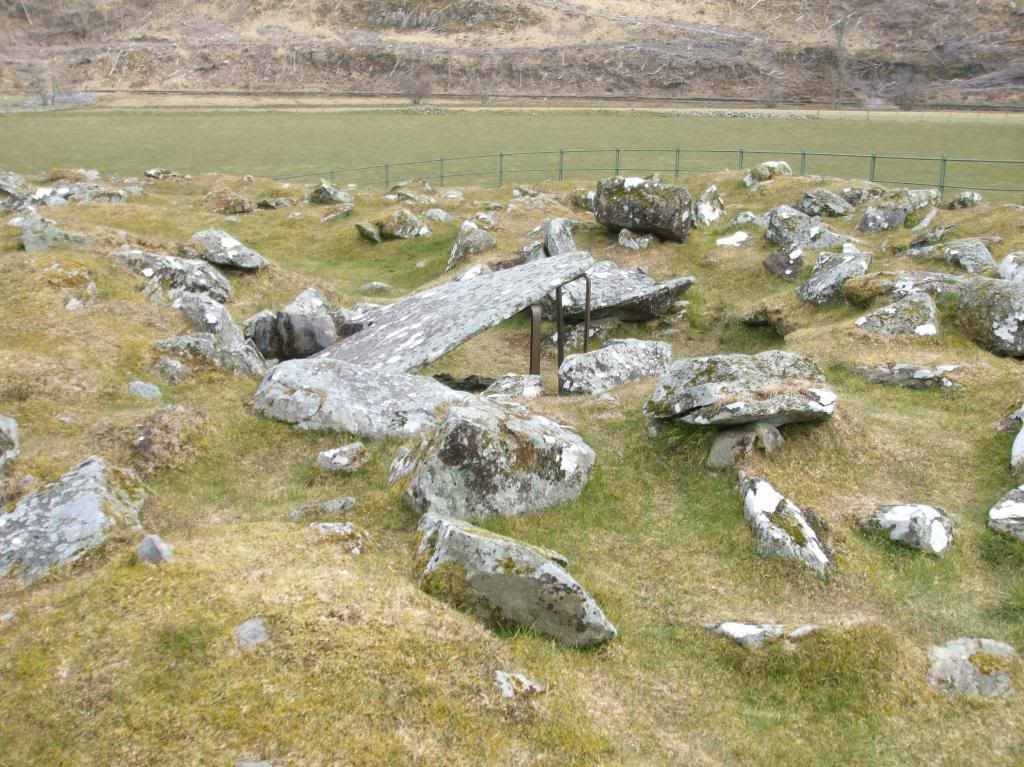 This takes me nicely on to the Ri Cruin cairn. Lying just to the south of the linear cemetery, Ri Cruin has its origins at around c. 2000BC, but was later re-used as a lime kiln. It has been excavated on three occasions, the last works on the monument being carried out by the well known archaeologist V Gordon Childe.
As was the case in Nether Largie Mid Cairn, no finds of either human remains or accompanying grave goods were recovered, but despite this paucity of material, Ri Cruin is particularly interesting because once again it has revealed carvings of Bronze Age axeheads on the end slabs of one of the cists which was uncovered here:-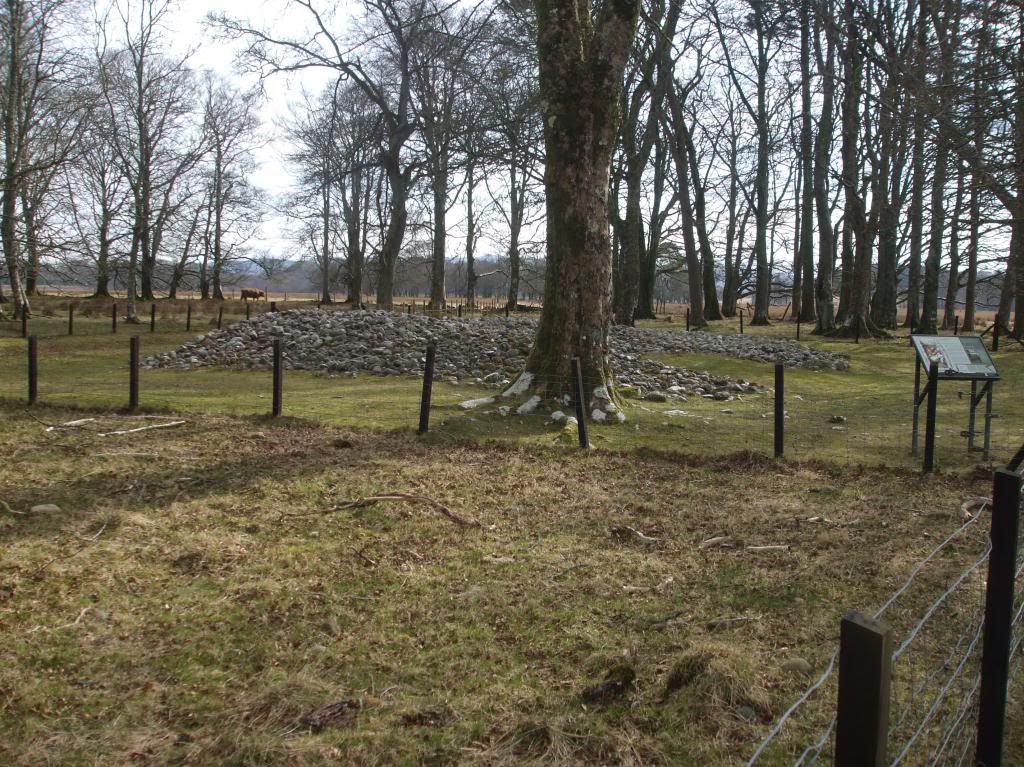 Here's the cist in question, left open so it can be examined by visitors:-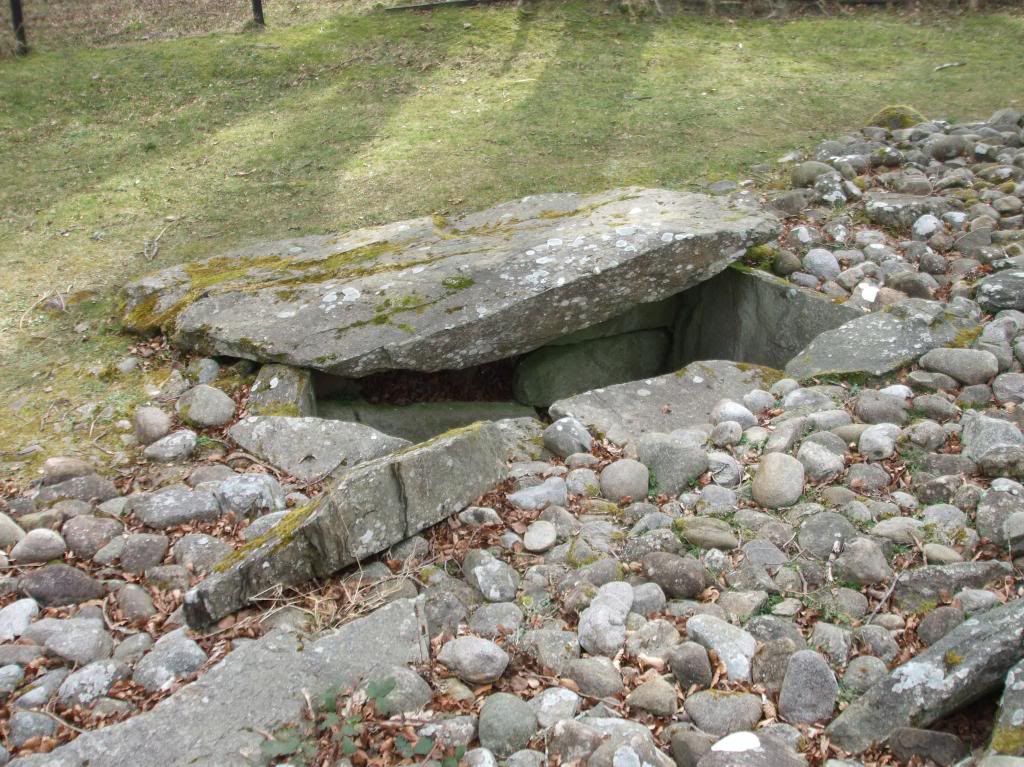 And here's a view of the end slab in question:-
This time, the axeheads featured are representative not of the thick-butted copper axe, but the thin-butted bronze axe, thought to be later in date, and featured below, just so you can carry out and compare-and-contrast exercise with the axehead featured on Nether Largie North:-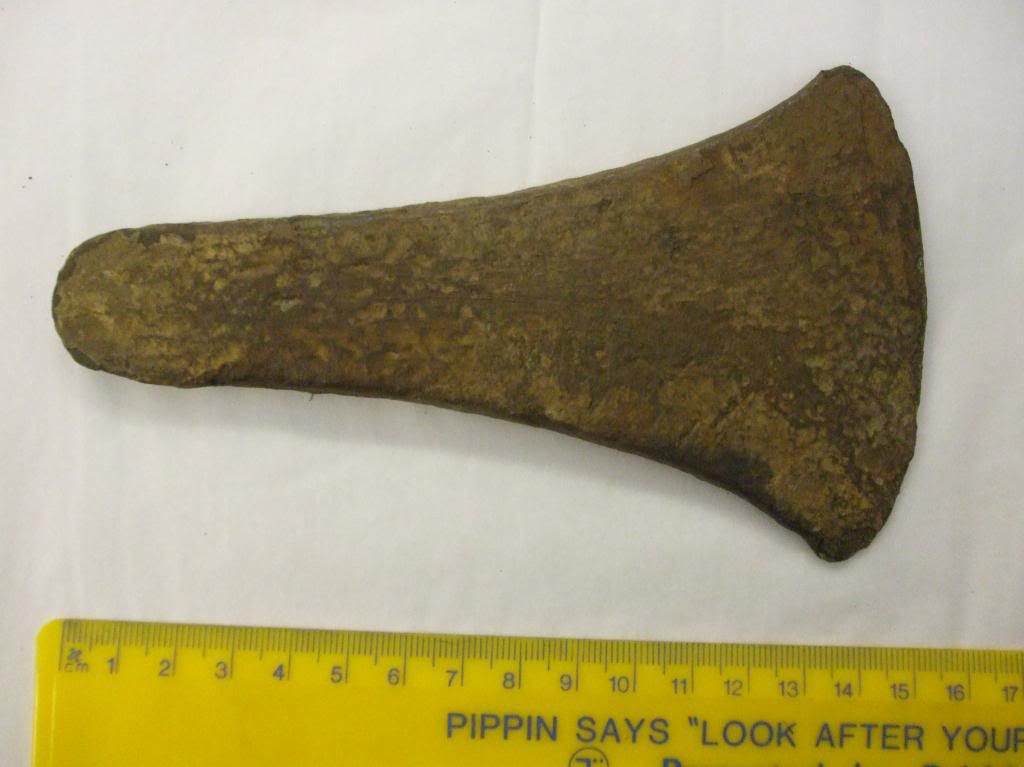 blah
Things are pretty chaotic just now, as the Small Plant Delivery Season reaches its zenith. A batch of petunias and also a collection of wildflowers termed 'Au Naturelle' (which include poppies and nigella, and God knows what else...) have arrived, and so I'm running around like a maniac potting on a lot of the time. Space is now at a premium. The frosts have stopped, but now we have gale force winds to contend with so I'm still unable to get on with hardening off...
These are both much later than the Nether Largie South cairn that I featured previously. The Glebe cairn is the largest of the four cairns which make up the linear cemetery, and this is despite the fact that most of its constituent cairn material has been removed and incorporated into the drystone walls that proliferate nearby:-
The Glebe cairn was partially excavated in the 19th century by the well known antiquarian the Rev, William Greenwell. Amongst his investigations, he explored a cist which revealed an incomplete jet necklace, and a Food Vessel type pottery vessel. His excavation report can be read at
Slightly further to the south lies Nether Largie North cairn, which was excavated by James Craw in the 1930s, and later rebuilt in a fashion which allows visitors to actually go inside the cairn and visit the cist within, something which would have been impossible in the Bronze Age!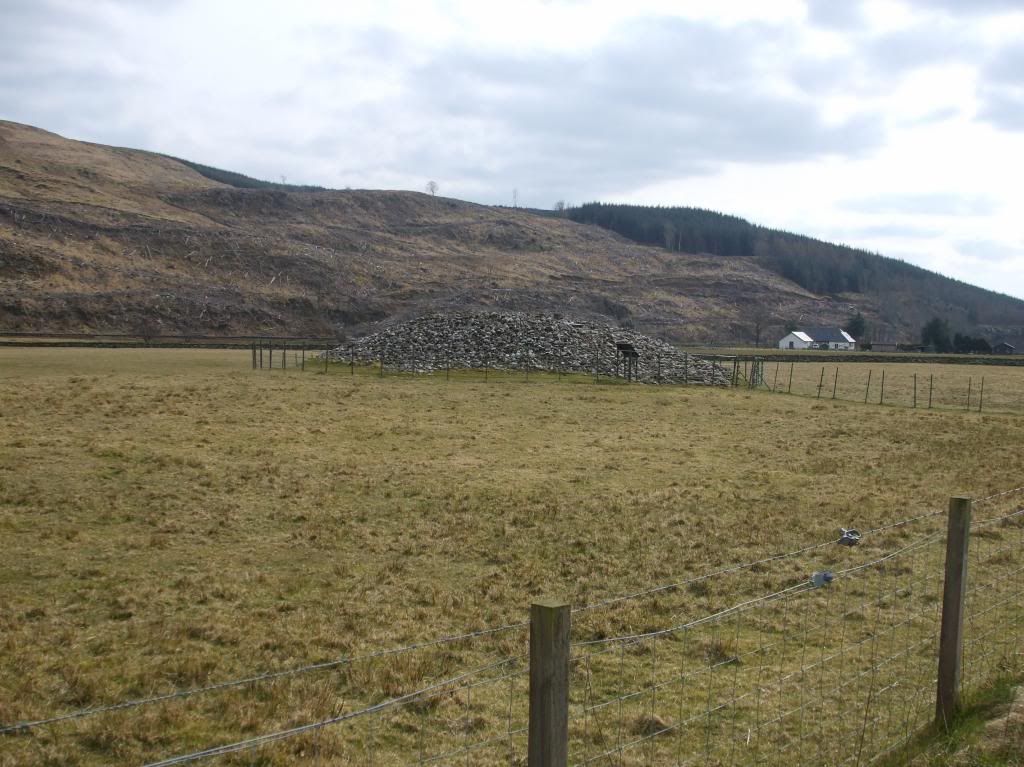 Here's the cist, which didn't reveal much in the way of grave goods. This might suggest that the individual buried here wasn't that important, but for the unusual cover slab which was once used to form a lid for the stone coffin:-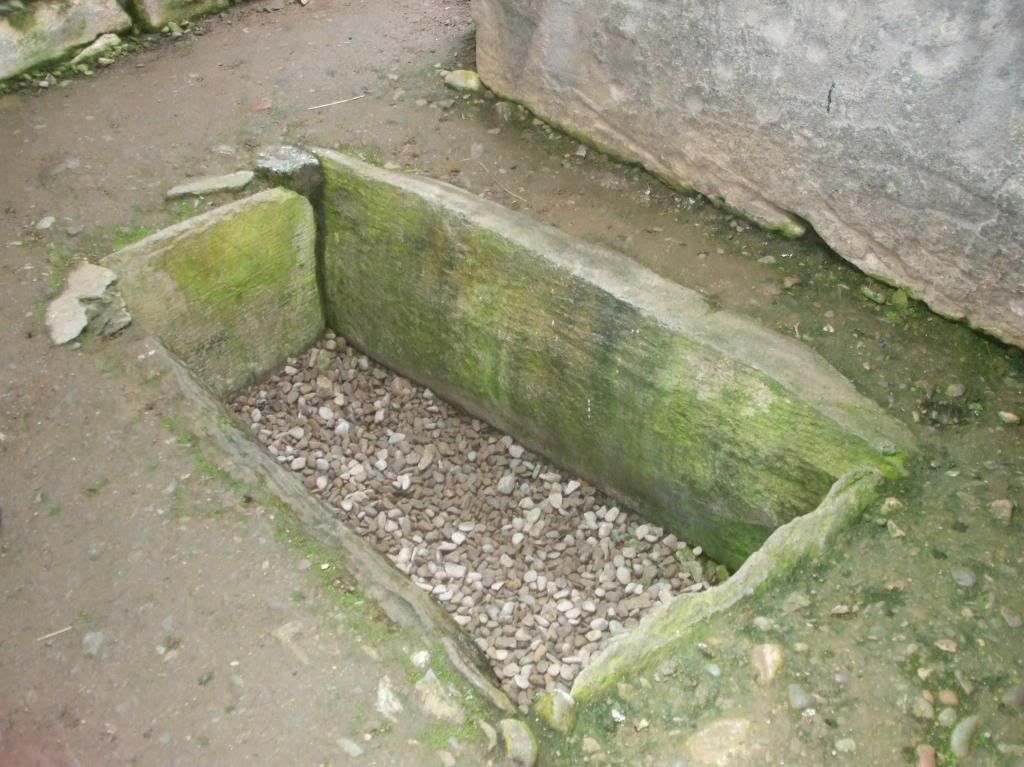 The lid is covered with cupmarks, similar to the markings we saw at Ormaig, though without the complex multiple ringed cupmarks:-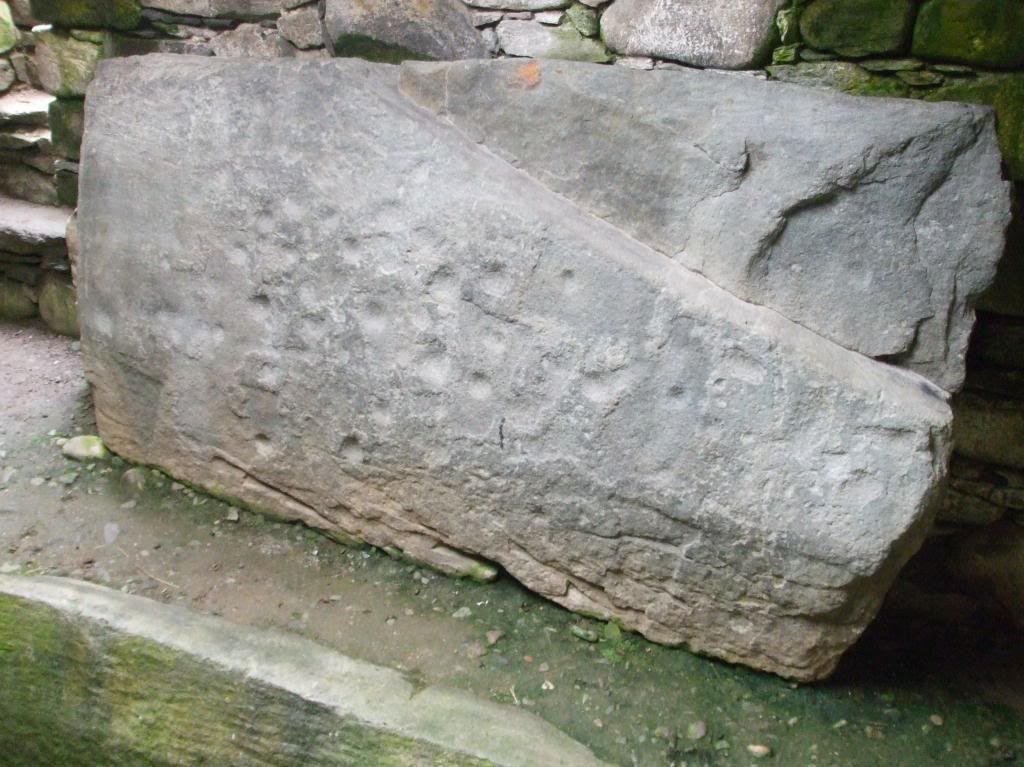 What is particularly striking about this example is that it also has pecked into the surface a number of axehead-shaped designs which appear to be thick-butted copper axeheads, an implement associated with the Early Bronze Age. There are a number of them present, but they're quite difficult to spot - there's one present in the bottom left-hand corner, and just to be helpful, here's a Bronze Age axehead for comparison. This one isn't as thick-butted as some, but it isn't particularly thin, either:-
Now, this is where the debate heats up regarding the date of the cupmarkings. Are they earlier, Neolithic markings that were present on the stone before it was quarried to make the cist cover slab, or were they added in the Bronze Age as part of the rituals that accompanied the burial of the individual placed within the cist?
To the north end of the linear cemetery, and in particular the Glebe cairn and Nether Largie North.
Current Mood:

calm