No author events in person this weekend, but instead I have been beavering away writing blog posts.
Firstly, I've posted my second regular contributor slot at the Hadley Rille Books 'Heroines of Fantasy' blog, where I've talked about real medieval women and highlighted 3 case studies: Black Agnes of Dunbar (one of my personal favourites!); Christian de Pisan (another of my personal favourites) and also the more humbly named Emma of Huntyngton (apothecary). If you get a chance, please drop by
http://heroinesoffantasy.blogspot.co.uk/
I've also been tagged as a participant in not one, but TWO bloghops, both timed for this Monday. So if you visit my writers' blog at
http://www.louiseturner.co.uk/louises-blog/
you can read my contributions to both the My Writing Process blog hop,
and
the Main Character Blog Hop, the latter featuring the central character in my 2nd novel: the one and only Hugh, 2nd Lord Montgomerie (who is, of course, the anti-hero in
Fire & Sword)
. It also gives some insight into Hugh's changing fortunes in the course of the book...
I am now quite knackered, so I think I'll be heading out to the garden now to enjoy what's left of my Easter Monday. Though I may have to venture out to buy an obelisk - I've got some sweet peas to plant. The weather's still lovely here - though it's much windier than it was yesterday, and consequently, far less pleasant...
Once again, I have been waylaid by real life, my friends. Or rather, by the pressures of doing writerly things...


I had my archaeologist's hat on for the occasion. There was much reference to extant historical documents. Most references to the novel were left for the 'any questions' section, and I'm pleased to say there were quite a few, which was lovely.

During the evening, I only sold one book. But I signed five in books in total, and met six future readers. I say 'future readers,' because none of them had started reading the book as yet, though all of those who hadn't bought the book on the night had purchased them previously, most from the same venue. At a slightly higher price than normal, because a small cut of the proceeds was going towards the renovation of the very handsome early 19th century town hall which served as the venue for the lecture.

Those wanna-be writers of a more mercenary bent would have been disappointed, I'm sure, that more books didn't shift during the course of the night. Towards the end of the evening, however, I suddenly had this complete moment of epiphany. I've dedicated years to the writing of 'Fire and Sword'. The amount of hours it's taken me is quite literally incalculable. But as I spoke to those future readers - all interested and enthusiastic people who'd turned up on a (quite frankly) not very nice Friday night to hear me talk, it struck me that what I'm asking of my readers is something quite profound. Asking someone to stump up their hard-earned cash is one thing. Anyone can blow their money on a book which sits unloved on their bookshelf (or these days, their kindle) for years. But for someone to invest their precious time into reading an unknown book by an unknown author, well... I think that's one of the most precious gifts a writer can ever be granted. And to be granted time and lively conversation with people who are willing to do just that is a real, unmitigated joy.

In the run-up to last night's lecture, I was a bit on edge, a bit nervous. I know all too well what it's like to be presenting lectures in the cut-and-thrust arena of academia, where the audience are poised for the slightest slip-up, and peering close to spot whatever cracks there are in your armour so they can sink the daggers deep. So far, all my author events have been a different beast entirely.

Yeah, the remuneration may be nothing to speak of as yet, but it's a fantastic experience, and one I wouldn't trade for anything! Roll on the next one, which will take place in Paisley in a few weeks' time. Different venue, different Powerpoint presentation, but already I'm looking forward to it.
Yesterday evening, I had the very great pleasure of giving a lecture at the Beith Cultural and Historical Society centred on the historical events that inspired 'Fire and Sword'. A modest audience of 11 people turned up for the occasion - though I was fortunate enough to count the Honorary President of the Dorothy Dunnett Society amongst their number!
Current Location:

The Study

Current Mood:

bouncy

Current Music:

Elbow - Cast of Thousands


Anyway, I just spent a lovely morning browsing around the nursery at Uplawmoor. This has been a totally new experience for me, because for the first time in years - and certainly for the first time since I first stumbled across that nursery - I have a garden full of herbaceous plants to fill.

I flung all those bulbs I bought from T & M in over the Christmas hols, and I think I stumbled across half a dozen bulbs in my travels, all told. And I was assured by the previous owners that there weren't any bulbs in the garden. But... As the winter has progressed, we've started spotting snowdrops and crocuses and daffodils almost everywhere - except in those places where I was feverishly planting blubs through Christmas!

I can almost spot the phasing in this garden. The heavily overgrown areas with mature shrubs and trees are packed with bulbs and I think they date to the tenure of the original owners, the sea captain and his family. In the flower beds which were mulched with bark and planted with more stylish (as opposed to traditional) shrubs and a large number of ferns, there are small quantities of bulbs, the survivors of a bulb massacre that will have been instigated by the previous owners. There's still plenty of scope to add new bulbs, and I will, believe me.

When we moved in during October last year, this garden had only one hellebore - the 'Golden Lotus' I brought with me from the last house which was a freebie from Suttons. I planted it up very early on, but unfortunately, it doesn't seem to have survived the winter. I don't know why - perhaps it's too wet. But you know what I'm like with hellebores! I really can't cope in a garden which doesn't have them. So the garden has now got 14 hellebores! Only 3 of which are planted out as yet...

And the little strip of gravel by the patio has rapidly become a makeshift nursery. That's one of the beauties of this place - I actually have enough space for the plants and the pots to be stored prior to final planting.

The begonias have done well - I may lose 2 out of a stock of around 18. I've potted on 6 already, and they're looking good. By contrast, the pelargoniums are not doing at all well. I put staging up in the garage, and I hoped they'd just keep ticking over. The light levels aren't good, and I hardly gave them any water, but they seem to have caught some kind of damping off problem and I've lost at least half of them, maybe more. It's a bit disappointing, really.

So roll on the spring. And roll on a bit of sunny weather, please. So I can share some photographs!
The sun came out this morning and I was going to take some photos in the garden. And then I thought, "Naw, I'll do it later," and of course the cloud came in, and the rain started...
Current Location:

The Study

Current Mood:

hopeful

Current Music:

Shostakovish - 'Leningrad' Symphony, 1st Movement


He's long gone now, and I still feel a sharp pang of guilt in my heart at my act of betrayal when we sold up and left him. The birds are very different here, much wilder & more feral, which from the birds' point of view is probably no bad thing.

The range of birds is much the same. We have goldfinches, greenfinches, many, many house sparrows (yay!!) and a plethora of blue tits, great tits and coal tits. We have some furtive blackbirds. We have rooks - the Parliamentary Private Committee, as I call them - the odd magpie and carrion crow, a woodpigeon and a nuisance of jackdaws. J has seen a male hen harrier flitting past the garden, and a kestrel, while I've had a sparrowhawk pluck an unwitting sparrow out of the ivy at close quarters. Flitting overhead, we have buzzards and herons, flocks of pink-footed geese and whooper swans.

And we have attracted our first hard luck case. No baldy robins here, if you please: instead, we have a hirpling (i.e. limping) Chinese ring-necked pheasant which we have named 'Cocky II.' He hangs out on the garden wall, and lurks around the shrubs when we're strolling the garden, giving us dirty looks as if to say, 'I don't exist, really. And you can't see me. But some sunflower hearts would be nice, if you'd care to throw them my way.' He first appeared in the New Year, on a very, very wet and miserable day, when he just looked dreepit and unhappy, but he's perked up since then, I'm pleased to say. We've taken photos, but they're not very good, but hopefully we'll be able to share better ones with you in due course!!

Why the name? Well, he's named after a forerunner named 'Cocky', who was immortalised by the 'Lochwinnoch makar', poet Betty McKellar, who has very kindly given me permission to reproduce the poem here on my blog, for your delectation.

And no, we have no intentions of enjoying poor Cocky II 'gastronomically', and we're hoping he won't feel inclined to go straying up towards Tandlemuir come the summertime, when the lure of lady pheasants becomes too great!!

So here, without further ado, is today's poem:-

Game Bird
by Betty McKellar

For one long glorious summer
a pheasant flew to us from out the skies
and tried
to be a robin.

We called him 'Cocky.'
He came all dignity and swagger in his superiority of size
with his silly-lilly-frilly eyes
and his feathers glowing bronze and fawn and gold
instead of red
and his little bird-brain well-concealed
inside a little iridescent green-jewel head.

He made us laugh.
He was an air-bus to a spitfire in manouvreability
an aero-dynamic improbability
He'd have needed helicopter-blades fixed to his head
to land on our bird-table
and claim his robin prize.
He was only able for the dyke nearby.
He always looked ridiculously surprised
when he stretched out his scrawny neck too far
and lost his balance like a fat gymnast on the bar
toppling towards the ground
in a squawking embarrassment of outraged pheasant sound
crash landing
smoothing himself down
settling for fallen robin pickings that he found.

And then one day our pheasant friend had gone,
the bird had flown
he'd had enough, was in a huff.
He'd given up
on trying to be
a robin.

We'd enjoyed him for a summer
but we forgot him
until Shirley and Billy and Jeff and Willie Webb
came from the Tandlemuir Shoot
triumphantly hot-foot.
"Look what we've got,
one for the pot,
a present for you,"
was what they said.
This time we enjoyed him
gastronomically.

And should you shudder and condemn the likes of me,
and point the finger
accusatorially -
think of that chicken you're eating for your tea.

Then think of Cocky
who was for a summer gloriously free
trying to be
a robin.
You will remember, I'm sure, my friend the baldy robin, whom I nursed through last winter (with the assistance of many RSPB brand Fruity Nibbles) & coaxed back to health throughout spring and summer until he returned after the August moult with a fine head of feathers?
Current Location:

The Study

Current Mood:

cheerful


A big 'HELLO' and a 'HAPPY NEW YEAR' to everyone!! And yes, I can hear you all muttering and grumbling and saying, "Huh? Who the hell are you again?" and yes, I'd also like to say a big 'SORRY!!!' for not having caught up with you sooner. Some of you left me querying e-mails asking after me and wondering how and where I was (thanks for your concern. It's much appreciated!!!), so some explanations are in order.

In short, I was working. As you know, this whole post-novel-publication period has been a massive learning curve for me. Getting out there and getting your book noticed is a vital part of a writer's life, but I've rapidly concluded that if a writer really, really, really wants to grow an audience for their work, they have to WRITE!!! In fact, I came across a quote somewhere that a writer really hasn't got much hope of attracting a loyal readership until he/she has seen 3 novels through to publication.

Since I already had my second novel pretty much done, I told my publisher that I'd try to get it over to him for the HRB January submission window. He was pretty chilled about this - he said he couldn't really get round to dealing with it in January, but that he'd try and look at it around February/March time. At this stage, I was at the Angsty, Indecisive, Completely Lacking In Self-Confidence stage of the authorial process. I knew I had a good book pretty much completed, but I wasn't sure it quite made the grade in comparison to the last one. I was worried that it wasn't sufficiently poetic. I was worried that the way I wanted the characters to come across wasn't quite working. I was worried about quite a lot of really trivial things that when added up together made me extremely anxious for the viability of the work in its entirety.

In early January, I finished off my penultimate edit. In topiary terms, I had my peacock or my cat or whatever prepared, but there were a few tufts of privet sticking out here and there which made me realise that I wasn't quite ready for Open Garden Day just yet. So I figure my next task was to take the whole manuscript, and to read it, not as a writer, but as a reader. It proved a sound move, for it meant I was able to stumble across all sorts of jarring issues, and make a mental note of them (luckily, there weren't enough for me to need the red pen at this stage). So I was then on to the final edit. This involved a more detailed read-through, making changes where appropriate, and then a quite literal read-through, where I locked myself in my office and read each section out aloud until I knew it sounded right. All this was on top of the day job. I'd work a 7 hour day, come home, then spend between 1 and 3 hours working on the novel, with 5-6 hours on the weekend.

Halfway through the proceedings, my publisher fell gravely ill. At that stage, I didn't know when he'll be fit and able to actually receive the book, let alone read it (I still don't know, either...), but by then, the process of final transformation was well underway. The pressure was off, but I'd reached the stage where I just wanted it to be completed. At the start of this process I'd been dithering about the dedication, too, but suddenly that became obvious. It would be dedicated to Eric Reynolds, my ailing editor, for if it hadn't been for the courage and the generosity he'd granted to me by investing in Fire and Sword, I would never have been reaching this stage in producing the follow-up.

The final chapter was completed last night, and I'm immensely proud of what I've achieved. I think it's up there with 'Fire and Sword', I certainly think it's unconventional as far as historical novels go (particularly those set in Scotland) and I'm harbouring that same sense of weary elation as I did all those years ago when I handed in my Ph.D. thesis for the first time. It's taken me a mere 9 years to see this book from conception to completion, and the character at the heart of it, Hugh, 2nd Lord Montgomerie, certainly endures an epic journey throughout the course of the narrative. It's a novel about hubris, it's a novel about the fickle whims of Fortune, and some day in the not too distant future I hope I'll be able to wave it off as it starts its long journey through to publication.

Now it's over, I can emerge, blinking, back into the light, and get some kind of a life again. I have done virtually no exercise, and I have not socialised, living instead like some kind of literary recluse. I have much news to share with you, about troughs and medieval pottery and Diva and the beauties that abound in the new garden. And how I've traded in a bald and much-missed robin for a hirpling pheasant we've christened 'Cocky II'. I remain painfully aware, too, that you will all have much news to share with me. You've been in my thoughts throughout what has been for everyone, I'm sure, a most unpleasant and nasty winter. I know I have friends in the south-west and the south-west of England who must have been suffering from the flooding and the high winds, and I have friends in the US who will have been enduring the horrific cold snap. Not to mention Antipodean friends who have probably been putting up with drought and bush fires. I'll catch up with you all just as soon as I can - in the meantime, I hope you're all well, and that everything's been going smoothly for you in all aspects of your lives.
Or: Why Writing A Novel Is Very Much Like Completing a Ph.D.
Current Location:

The Study

Current Mood:

ecstatic


Anyway, I've been busy in the garden, beavering away with digging flowerbeds and planting bulbs. I now have my first David Austin rose in the garden - it's an Eglantyne, to replace the one I left behind in my previous garden - and I have also added a hellebore and a couple of penstemon.

I'd ordered a massive amount of tulips and daffs from Thompson & Morgan, way back in October, but after receiving one consignment from them, I'd heard nothing. Today, the last batch of bulbs finally arrived. I'd ordered a whole load of Jonquilla Sundisc and Pueblo, & double narcissi, plus a huge variety of parrot tulips. Including the magnificent Carribean parrot.

Alas, my order went in too late because of the house move and now the parrot tulips are all out of stock. And so too are most of the jonquils. To apologise, T & M have sent me endless quantities of Jonquilla Suzy and Jonquilla Pipit to make up for the lack of Sundiscs and Pueblos, plus some Cheerfulness, and a huge number of Tulip St George and Darwin tulips. And, because my chosen varieties were out of stock, they sent in addition various crocuses, irises, AND some allium!!! Yes, I know it's getting a bit late in the day to the plant them, but it's still quite mild, so I think they'll be okay if I make a concerted effort to get them in over the Christmas period.

I guess that's a result then. I would've like my parrot tulips, but receiving double quantities of everything else plus some bonus bulbs is a pretty good substitute. This garden is swallowing up bulbs like there's no tomorrow, so I suspect there will be plenty of space for parrot tulips in the future. And I daresay there will be plenty of photos next year - the azaleas here are in bud, and I can't wait to spring so I can see what they're like!
I've been meaning to do a gardening post for a long, long while but I just haven't been able to sit down and find the time.
write when she was so busy all the time? Jetting here and there to literary conventions scattered across the globe, judging literary competitions, etc. etc.

Yeah, you get the picture.

I know so many good writers who would dearly love to give up the day job so they could write full time. I'd love to do it myself. But the way things are going in the industry, it's just not possible. So why on earth does someone who has 'made it' have to come out with that kind of nonsense, when the rest of us are struggling gamely on trying to write when we're juggling publicity work along with a nine to five existence.

Over the last couple of weeks, things have really been taking off for me as far as my writing is concerned. I took a couple of days off on annual leave last week, the aim being to try and put some work into my writing. That's a very vague statement, isn't it? 'Put some work into my writing'...

In reality, the four day weekend involved this. Day One: did a bit of editing, designed a poster for a signing and a little publicity leaflet for an event I'm selling books over the next few weeks. Day Two: did a bit of editing, sorted out some issues with a little piece I've submitted to Historical Novels Review for inclusion in the January issue, planned a flyer campaign for Scottish Book Week, researched some independent booksellars, put up a blog entry on my website blog, designed a flyer, read a bit of Machiavelli so I could find a quote for my next novel. Day Three: printed out flyers, posters and the publicity leaflet, did a bit of editing, went out to meet up with my local writers' group. Day Four: headed into Glasgow for Scottish Book Week, did some guerilla leafleting, chatted to a bookseller and a librarian, did a bit of editing. This swallowed up most of my time, though it was quite pleasant to actually have some spare hours where I could dig the garden, plant some bulbs, hang out in the local cafe with J and check out the bookshelves at Oak Furnitureland.

The feeling I'm getting throughout all this akin to that of a salmon trying to reach its spawning ground. By writing your novel and finding a publisher, you've just made it across the Atlantic - bravo!- but hey, don't relax, because now it's time to navigate the river. It's seems easy at first, but suddenly you're in the rapids, and then... Oh look! Somebody's just whacked a hydro-electric scheme in the way and now you're stuck, circling endlessly round as you search for a fish ladder.

Scottish Book Week was a case in point. It's an annual event, ostensibly intended to promote Scottish literature, though what this really means is that it's aimed at promoting Scottish publishers. With the assistance of Hadley Rille Books editor Eric Reynolds and fellow HRB author Harriet Goodchild. who's based in Edinburgh, I embarked upon a campaign of guerilla leafleting at the main venues. This had the unexpected benefit for me in that I managed to bump into the owner of an independent bookshop whom I'd e-mailed her previously, telling her about the book. I'd received no reply, and as I suspected, she was ignoring me. Turns out she gets bombarded with solicitations from authors, most of them self-published, so she just isn't interested in supporting random writers who come in requesting some shelf space in her shop.

Armed with my new found do-or-die author's mindset, I refused to give up. We chatted. About the dire state of the industry. About the difficulties faced by independent presses and independent booksellers. About the new democratization of publishing, brought about through the galloping success of the self-publishing industry. Gradually, I was able to tell her that my title was in possession of the prerequisite needs that she required to consider stocking it. I had stand-out-from-the-crowd cover art. I had an ISBN number. My book was available through a recognised distributor, on a sale or return basis. By the end of the conversation, she'd taken a note of the ISBN number and taken a flyer, so while this doesn't guarantee she'll stock it, I felt I'd achieved some kind a result.

All well and good. Since that time, things have been rumbling along and I think I'm beginning to notice a sea change. My next success was a foray into the North Ayrshire market where my book was received with enthusiasm. 'Oooh!' said the organisers, 'How interesting!' Since the book's set locally, they see it as a historical novel which is personal to them, and therefore, they're keen to read it. Another success was when I managed to arrange an interview with one of the local papers, and perhaps more importantly, succeeded in getting the time off work to attend it (bet that wretched Moaning Minnie of a famous author doesn't have to do THAT any more!!).

Best of all, I found a few tangible indications that all this legwork is beginning to pay off. When I went into my local library on Monday to print some flyers, I met my book, but only briefly. I knew the library had ordered it, but didn't expect it to be wagged under my nose following its return by a local reader. Its rest was brief - it's already been requested by another and so it hasn't even had a chance to get back onto the shelf. And just yesterday, I went into Paisley Library to see if they'd put up a poster for my forthcoming signing in the town. I'd donated a copy to them not long before, so I was hopeful for their agreement. What I didn't expect was to be told, "We don't normally advertise promotions, but since it's you, and since we've recently purchased a few copies of this book for the library, then sure. We can do that." Not only that, I also managed to get some interest amongst the staff who man the gift shop at nearby Paisley Abbey.

Wow.

I'm lucky. I have a Unique Selling Point round these parts. I can put the emphasis on the local history, and I know that'll sell the book, and the devil take anything else. I know it's a darned good story, and a couple of reviews on Amazon are helping to reinforce that point, but I'm not going to make any sales by trailing around the shops saying, "It's a really good book, and you'll love it!" I daresay everyone says that regardless, and the booksellers just aren't interested any more. What I'm hoping is that some day the word will get around and people will start reading it because it's worth it as a piece of literature in its own right, but in the meantime, what I have to do is set small achievable targets and work like hell to get some kind of presence out there.

It's like any kind of business, really. You get what you put into it. But it's something I really love doing because I know all the hard work will eventually be worth it. Whether I ever achieve the Holy Grail of becoming a full time writer is uncertain, but the dream is there, and I'm determined to do my very best to try and chase it.

A fellow HRB writer once welcomed me into the HRB Facebook network with the ominous words, "Welcome aboard, you're in for a wild ride." I jokingly retorted with the line, "A Nantucket sleigh ride, I bet." And to continue the oceanic metaphor, that's quite an appropriate comparison. My novel is like Leviathan. It plots its stately course through uncharted waters, while I hang on for dear life, sole passenger of a little jolly boat that's being dragged relentlessly onwards. It's bumpy alright. It's uncertain and precarious and there's always the fear that the beast will plunge to the depths and take me down with it.

But, oh boy, is it exciting! And even after just a couple of months, I know I wouldn't swap this whole writing lark for anything else in the world!!
A couple of weeks back, I got more than a little exasperated when I read an article did the rounds on Facebook amongst my writer friends. It was an interview with a moderately famous author (can't remember her name, sorry...), whose novel 'There's Something About Kevin' has recently skyrocketed in popularity when it was turned into a film. Anyway, there she was, complaining bitterly because her life had turned into some kind of media circus. How was she supposed to
Current Mood:

ecstatic
I'm still reeling.
A host of sacred cows were corralled in an enclosure (hengiform in shape) and then systematically bludgeoned. They are now hanging up by the hoofs from the abbatoir wall.
The whole experience was wildly exciting and damned invigorating .
Lecture #1 presented us with a revised chronology for Stonehenge, and an insight into the role Stonehenge played in the Mesolithic. Of course, we all know that there was no Stonehenge as we know it at this time, but there's growing evidence that the place where Stonehenge is now located was treated as special even then. If you visit the site, keep an eye open in the car park, because marked out there are the sites of pits which form a line. They once held timber posts, and they've been dated to the Mesolithic.
I'm sure you're all familiar with MPP's theories from the Time Team special. In that respect, there's nothing much to add, except that everything was dealt with in much greater detail. I hadn't quite picked up, for example, that the configuration of the Neolithic houses and their interior layouts are demonstrably identical at Durrington Walls (the largest henge monument in the world, ever!) and at Skara Brae. We were also granted a potential explanation for the random Neolithic pits we find scattered across the landscape in our commercial work - pits were often dug in the SE corner of the houses as a kind of closing deposit. When the floor gets eroded away, the pits remain, with no other evidence for occupation present. The floors at Durrington, covered with a form of plaster, were preserved only because they'd been buried beneath the bank of the henge.
I'm sorry - I thought I had a picture of Durrington Walls, but it must have been so vast that it just looked pathetic in my photograph, 'cos I don't. You'll just have to watch the Time Team Special again instead!!
But I digress....

We were offered the argument about the various elements of the ritual landscape at Stonehenge and how they are aligned upon the midsummer sunrise and the midwinter sunset, with a detailed insight into the individual component parts and how they can be divided into monuments for the living, like Woodhenge here:-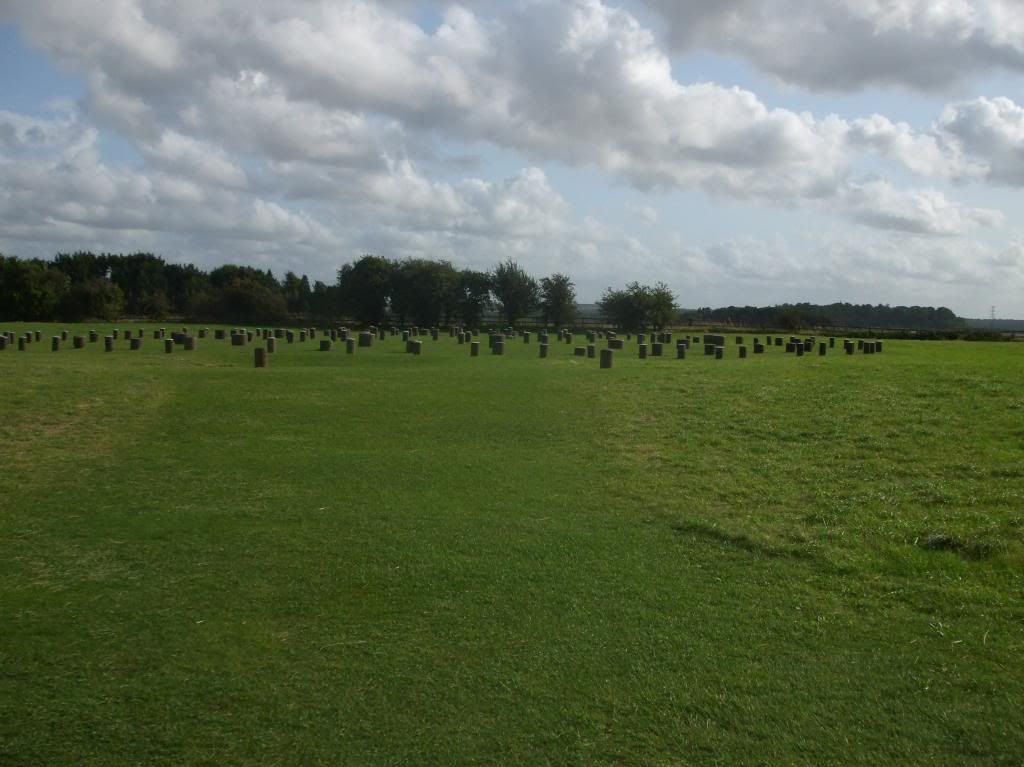 And monuments for the dead, or the ancestors, like Stonehenge:-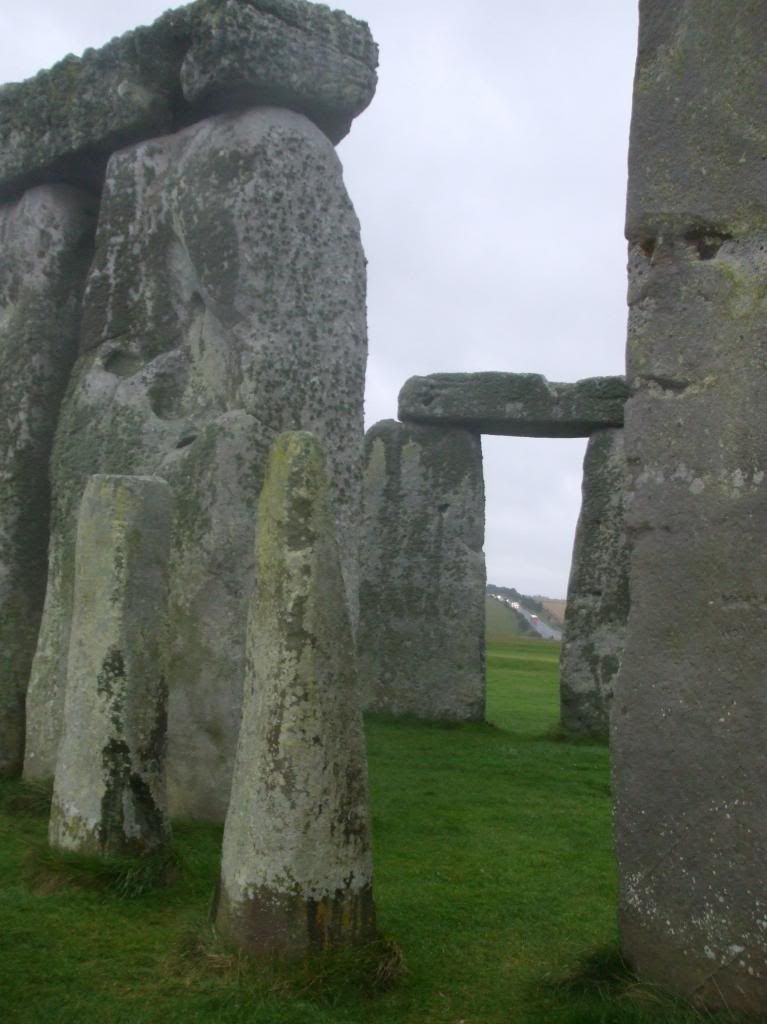 Apologies for the strange photo - I chose this one because it shows a couple of the famous bluestones in the foreground. These appear to be the earliest elements of the monument, once set upright in the so-called Aubrey Holes.
Lecture 2 was all about the monuments to the living, and in particular Durrington Walls, while Lecture 3 dealt with Beakers and revealed that the diffusionists like Vere Gordon Childe were closer to the mark than we'd envisaged, and that large scale movement of people was a characteristic of this period. Their appearance also followed a period of insularity within the UK where no foreign influences were evident and where the building of these huge public monuments reached their zenith. Lecture 4 dealt with more evidence from the Neolithic and brought in Grooved Ware and regional styles in chambered tombs and pottery. And it revealed that excavations in the Presilly mountains have revealed not only the quarry site but an in situ bluestone which was abandoned where it lay.
I'm sorry. This is horribly abridged. I took copious notes, but my head is in a whirl, and while I spent the first evening sulking because I wasn't involved in the project in any shape or form (I have no defence. I saw the adverts and didn't apply, because I'm too settled in my life up here), I'd relaxed by Lecture 2 and realised that it was a privilege to be witnessing such breathtaking results of research on a group of monuments that really mean a lot to me. I'm pleased to report that there will be a series of monographs, and that MPP is working on a shorter volume, too.
Well, I have no idea how the President of GAS managed to summarise this clearly and succinctly. If I had five hours or so, I might be able to sort out my notes and give you something comprehensive and intelligible. The bad news is,
veronica_milvus
that I think I've managed to get the inspiration for a trilogy of Stonehenge novels out of this one. But the good news is.... This monument and the world in which it was created and used is so rich and so complex and so completely alien that I think there's plenty of room for a whole load of us to be playing in the sandbox without treading on each others toes!
Read the interim reports. Look out for the publications. And prepare to be amazed!!
I'm back. After an awe-inspiring week in which my days were spent hooked to the yoke of commercial archaeology, and my evenings ere spent attending the Glasgow Archaeology Society's annual Dalrymple Lectures, which this year were presented by the one and only Prof. Mike Parker Pearson of UCL.
Current Location:

The Study

Current Mood:

enthralled

Current Music:

Purcell - Funeral Music for Queen Mary
Yes, you've guessed it. Today I went sniffing out monuments in deepest darkest South Lanarkshire. And today I finally got to achieve the ambition of 20 years (alright, 18...) by communing with the Ancestors at the Neolithic ritual enclosure at Swaites Hill.
Yes, prepare to be very underwhelmed!!
Right, I am now going to very madly enthuse about something that will make most of you go, "huh?" While the archaeologists amongst you will nod vigorously, and get very, very excited indeed!!
First stop of the day was the multivallate (i.e. more than one rampart, in this case, two) hillfort at Chester Hill. I took J along with me, and this was his personal favourite, because, as he said, it looked like something.
Actually, I think it looked darned impressive, myself...
In the 19th century, some enterprising landowner decided to turn it into a designed landscape feature. It is approached by a handsome avenue of beech trees:-
At the summit, we find a small circular enclosed area with two very nicely preserved ramparts:-

The location is dramatic, perched on the south end of a ridge of high ground overlooking a flood plain. Unfortunately, this photo doesn't do it justice. Though it does do the ramparts justice. They were very nice indeed....


And now for the main event. The Neolithic ritual enclosure at Swaites Hill.

And here it is:-

I've made this extra big, because you need to be really eagle-eyed to spot it. The trick is to identify the cows at the left hand side of the picture - their feeding area is right on the bank of the monument (tut, tut, Historic Scotland would NOT approve!!! We're talking about a Scheduled Monument here...) Follow a gently sloping line down from the cows to the right hand edge of the picture, just above the centre (vertically) and you'll see a line of shadow. That's the remains of the bank, which is now very spread and pretty much knackered.

Unfortunately, monuments on this scale are just not very photogenic. The thing's humungous, absolutely gigantic. To get a better idea of its scale layout, you can click the Canmore record, which features an absolutely exquisite RCAHMS field survey team drawing:-
The visible remains aren't that impressive to the untrained eye. But the location is stunning. This view looks down across the site of the ritual enclosure, towards the site of the hillfort (see the clump of trees on the right). Looming up in the background is Tinto Hill, which has a BIG kickass Bronze Age funerary cairn on its summit. The ritual enclosure sits in a huge bowl which seems almost like an amphitheatre. The enclosure is right next to a stretch of mossy ground and two springs emerge from its interior. It's very henge-like in some respects - an indication of what Stonehenge would have looked like when it started out as a mere bank and ditch.

It's baffling. And really quite intriguing. The fact that it remained a focus for activity in the period following the Neolithic is proven: Bronze Age cremations have been recovered from the bank, and there are a number of cairns and additional enclosures scattered across the ridge.

Like this example here. Which, once again, takes a bit of a trained eye to identify. It's circular, and I've taken the photo to capture as much of the arc as possible. The line of heather marks the bank, which is about 0.3m high, and stony:-





I think you can also see the silhouette of a cairn on the skyline - that raised bump looks mighty suspicious. They're not all funerary cairns - most are field clearance, dating probably to the Middle Bronze Age. Supposedly, the climate was warmer and drier then, and these marginal lands were cultivable. Things got colder and wetter in the Late Bronze Age, and these upland settlements were abandoned. In many cases round Lanarkshire, agriculture has never been particularly intensive here, hence the excellent levels of preservation.

So it was an exciting and an exhilarating day. I met a raven, and I said a very polite 'hello' to it. I also saw a hare in the middle of the ritual enclosure, which was a strange co-incidence, as I flushed a hare out in similar circumstances at Stonehenge! If hares are symbols of fertility, then I hope it's a good sign - last time, a plot for a novel germinated in my mind.

And yes, I could get a fox hunt up this hill, in case you're wondering.

Now we're having a thunderstorm, so I'm signing off. To quote Clannad, Mysterious rIng, magical ring of stones... Forgotten is the race that no-one knows.
Let's have some real archaeology now, shall we? None of this glitzy shiny nonsense that you get in Wessex...
Current Mood:

contemplative
Then it was Desk-Based Assessment time. Absorbing and Totally Irrelevant fact #1 was this: the parish I was studying originally belonged to the Abbey of Holme Cultran in Cumbria, but they supported the English against David Bruce (?David II) in the Second Scots Wars of Independence and so their lands got forfeited and donated instead to some other local lords in Galloway.
Hmmm,
thought I.
Holme Cultran? Never heard of it. How interesting. Tell me more.
So I hopped onto wikipedia, as you do, and discovered that the abbey church survived the Reformation and is in use as the parish church of a town in Cumbria called Abbeytown, which I'm afraid to say I've never actually visited.
Correction. Shall I rephrase this slightly? The abbey church survived the Reformation and
was
in use as the parish church.
Until someone burned it down.
When was this act of senseless depravity? 1640s, perhaps, around the time of the Civil War? 1940s, when a few German bombers decided to empty their bomb bays before heading home and accidentally totalled an ancient ecclesiastical building?
Nope. It was 9th June, 2006. Some little f**k-wit loser decided to torch the place, causing £3 million pounds worth of damage and destroying the medieval cartualary at the same time.
Sigh.
Needless to say, the abbey is seeking funds for its restoration. Also needless to say, I'll be paying a pilgrimage to the poor stricken abbey next time I'm down in Cumbria so I can give them a contribution for the War Effort.
You can read more about this sorry tale by clicking the link below:-
http://holmecultramabbey.org.uk/
There are no Mood categories for 'Devastated' or 'Beside Myself with Rage' but hey, you get the point!!
It started out as an ordinary day at work. Got to rummage through some medieval pottery, scratched my head over whether I was looking at a grey form of gritty ware, a reduced form of redware, or some anaemic-looking Post Medieval Reduced Ware (hey, that's what a SPECIALIST is for!!!) and figured out that our recent clay tobacco pipe find from an urban site in Ayrshire was dated somewhere between 1670 and 1700 and probably not from Scotland.
Current Mood:

enraged